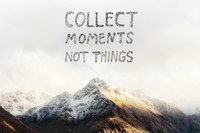 Become proficient in a foreign language:

Spend a lengthy period of time in another country doing mission work.

Keep a consistent journal.

Stay after a concert to meet the performers.

Get married, have kids.

Road Trip the Pacific Coast Highway

Write a song.

Go to a drive in movie.

Sleep in a hammock for a night.

Sky dive.

Run a race

See a play on Broadway.

Donate blood.

Get pulled over.

Smoke a cig.

Straddle a state line.

Study abroad.

Ride in a hot air ballon.

Hook up with a black guy.

Get an unexcused absence.

Climb a 14er.

Go to film on the rocks.

Swim with dolphins.

Go on a cruise.

Sing karaoke.

Climb a water tower, preferably in the south.

Shoot a gun.

Go to a nude beach.

Ride in a helicopter.
Go back country skiing.
Go to all 50 states.
Snow and water ski on Grand Lake and at Winter Park in the same day.
Ride a mechanical bull.
Visit all 7 continents.
oct 7 2008 ∞
sep 11 2020 +