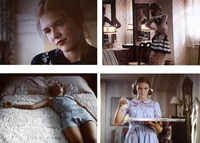 That I have not watched before, of course.
Empire Records.
Case 39.
The Haunting in Connecticut.
Babysitter Wanted.
May.
Lolita.
Amusement.
The Abyss.
The Collector.
SALT.
The Last Exorcism.
Mirrors.
Never Let Me Go.
Wild Child.
Carriers.
Prom Night.
The New Daughter.
You Don't Mess with the Zohan.
The Fourth Kind.
The Hills Run Red.
Dark Floors.
Dread.
Precious.
Day of The Dead.
My Sister's Keeper.
Vacancy.
No Man's Land: The Rise of Reeker.
The Devil's Rejects.
Red.
Two Weeks Notice.
Bride Wars.
Paranormal Activity 2.
The Crazies.
I Saw the Devil (Akmareul Boatda).
The Expendables.
The Hills Have Eyes 2.
I Spit On Your Grave (Unrated).
Black Death.
Chicago Massacre: Richard Speck.
Wild Target.
Friday The 13th (remake).
The Last House On The Left.
Sukiyaki Western Django.
The Secret Garden.
The Imaginarium of Doctor Parnassus.
Unborn.
Dorian Gray.
Heartbreakers.
The Chronicles of Narnia: The Voyage of the Dawn Treader.
Legion.
Thirst.
Welcome To The Dollhouse.
The Nanny Diaries.
TANGLED.
Snatch.
Wrong Turn 3: Left for Dead.
3000 Miles To Graceland.
Rachel Getting Married.
Skjult.
Blood Creek.
Grace.
Ghost World.
THOR.
Tideland.
The Runaways.
PIRATES OF THE CARIBBEAN: ON STRANGER TIDES.
Ab-Normal Beauty (Sei mong se jun).
In Country.
Cherrybomb.
RED RIDING HOOD.
Easy A.
Haute Tension (High Tension).
Wolfcreek.
Karla.
Devour.
Jawbreaker.
Fish Tank.
Sucker Punch.
X-MEN: FIRST CLASS.
The Importance of Being Earnest.
HARRY POTTER AND THE DEATHLY HALLOWS: PART 2.
Ella Enchanted.
Insidious.
Ten Inch Hero.
Vacancy 2: The First Cut.
Jonah Hex.
Faster.
Drive Angry.
Cop Out.
Confessions of a Go-Go Girl.
PRIEST.
And Soon the Darkness.
Lock, Stock and Two Smoking Barrels.
Scream 4.
Dead and Breakfast.
Identity.
The Alphabet Killer.
Kaboom.
Mirrors 2.
Lakeview Terrace.
FAST FIVE.
The Cell.
Rogue.
Killers.
The Tourist.
Ronin.
JANE EYRE.
Piranha.
For Love of the Game.
The Game Plan.
After. Life.
Bleach: Jigoku Hen (movie 4).
Devil.
Transformers 3: Dark of the Moon.
Mum & Dad.
Survival of The Dead.
Halloween 2 (remake).
CAPTAIN AMERICA: THE FIRST AVENGER.
Horrible Bosses.
Slither.
Knight and Day.
Long Weekend.
Unearthed.
The Core.
BREAKING DAWN.
Crank: High Voltage.
How to Lose Friends & Alienate People.
Taking Lives.
Adventureland.
The Killer Inside Me.
Predator.
The Texas Chainsaw Massacre: The Beginning.
Rise of The Planet of The Apes.
GREEM LAMTERN.
The Ward.
SHERLOCK HOMES: A GAME OF SHADOWS.
Shark Night.
The Hamiltons.
Set Up.
Hanna.
jan 1 2011 ∞
jan 6 2012 +