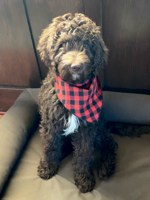 Dog Parks:
Eagle Rock Dog Park & Trails
Hermon Dog Park
South Pawsadena
Silver Lake Reservoir
EL Dorado
Alice's Dog Park (Pasadena)
Ernest Debs Field
DOG BEACHES:
Rosie's LB
Leo Carillo State Park
Huntington, OC
WALKS:
Arlington Garden (Pasadena - sweet small romantic gardens)
Arroyo Seco Trail (San Rafael @ San Pascual up to Rose Bowl) park near San Pasqual Stables
Atwater Village (neighborhood)
Ballona Wetlands into Playa Del Rey
Desiderio Park and neighborhood streets nearby (Pasadena under the big bridges)
Eagle Rock Neighborhood (by cacao)
Eagle Rock Recreation Center Field and dog park
Echo Park Lake
El Dorado Park (cerritos)
Elyria Canyon Park (in neighborhood with trails in hillside)
Elysian Park (echo park near dodger stadium)
Ernest Debs Park (trails to top with pond)
Franklin Canyon (lake and trails)
Garfield Park (pasadena near korean bbq) + neighborhood
Griffith Park
Hikes: switzer falls, eaton canyon
Hollywood Resevoir
Kenneth Hahn State Park trails ($7 cash - lovely hummingbird garden, Japanese garden, stoneview nature center)
LACY PARK 7-sunset (weekends $5 per person) Nov-April till 6pm May-Oct till 8pm near Huntington Library and surrounding SAN MARINO neighborhood
LA Historic State Park (chinatown - lovely)
Malibu Creek State Park (rock pool)
McDonald Park (Adam's neighborhood)
Moon Canyon (just a small valley between neighborhoods)
Occidental College
Our Neighborhood!
Pan Pacific Park, Hollywood
Rio De Los Angeles Park (by gym - hike around back of park)
Rose Bowl Loop
Runyon Canyon
San Miguel/San Rafael (pasadena neighborhood walk near Colorado)
Sepulveda Basin Dog Park (agility course) and Lake Balboa (west side)
Silver Lake Reservoir
South Coast Botanic Garden - (RESERVE dog day - every 4th Sunday)
South Pasadena Streets (by vet villa - Milan to Marengo Park and down Marengo)
South Pawsadena Trail (dog park through the hillside around the gold course)
Whittier Narrows Recreation Area
RUMI'S NAME:
Rumi, the Poet: "Don't grieve. Anything you lose comes round in another form."
Ru also for: Rupaul & Ruth Bader Ginsburg
Roomie: like our roommate
Alter Ego: Sydney
Nicknames: rummikub, ru, munchkin, rummy bear, rumi-san, little coo, rooster, boop the floof, cutie batootie, dorkus malorkus, rumi buns
Timeline:
8.16.20 - 12am birth
10.11.20 - adoption 8 weeks old
11.16.20 - Rumi's first walk
12.16.20 - 16 weeks of age - out in the world - 4 months - finished vaccinations
1.17.21 - graduates puppy class
4.3.21 - reunited with his siblings and birth mom for a playdate
1.31.21 - 6 months and licked the vagina of a Great Dane then tried to hump her
2.18.21 - you rode in a bicycle basket
7.11.21 - first practice sleepover at dog daycare without us
8.21 - neuter
Rumi Decision:
Finally got to the point of thinking of adopting after losing Toki.
Toki, rip, was a rescue with let's say "issues". He was overly protective of me and had been known to herd, and bite others, including kids and my dad, lol. Not severely, but enough to be anxiety-inducing. I wanted this round to be a bit easier.
I applied for 6 specific rescue dogs over a month but rejected due to high applications rates.
So we decided to raise a puppy, something I had never done.
We decided to step out of the rescue network to adopt a specific breed from a responsible breeder etc.
I've fostered dogs. I've rescued 3 rabbits, 3 cats, and a dog before. I've volunteered at animals rescues and still include this as part of my trips. I donate regularly to rescues and I have two rescue organizations in my will. So I let go of the guilt a little.
I decided on the experience of raising a puppy of a specific breed that's children friendly.
We adopted from a family that we could have a relationship with and visit.
We found you Rumi (after a very terrible 2020).
Breed:

Rumi's Dad F1: 50% poodle/50% golden retriever
Rumi's Mom F1B: 75% poodle/25% golden retriever (1 full + 1 Goldendoodle)
Rumi = 63% poodle / 37% golden retriever "F2B"
Midnight and Riley
EMERGENCY:
I LOVE:
Rumi likes to lay on his back and air out his crotch for everyone to see.
I love that he stops on the stairs for a butt scratch just the way my Toki did.
He barks when we wants us to do something, like he's using his voice!
His sweet little teeth.
When he runs in circles like a crazy person with zoomies.
Sounds he makes in his puppy dreams.
How he has to go the bathroom with me every time and just lays at my feet.
Rumi specialties: Bathroom activities security guard. High jumper. Face cleaner. Take out food groaker. Eye booger maker. Ball sack displayer. Dog park greeter and host. Hide and seek expert. Anxious backseat driver. And lover.
oct 13 2020 ∞
sep 11 2021 +