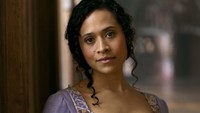 Snow White.
Belle.
Yui Ikari. (Anime, but most important.)
Guienevere Pendragon.
The Lady Amalthea.
Anne Shirley.
Felicity Worthington.
Shaharazad.
Mameha.
Sally the Ragdoll.
Katrina Van Tassel.
Jane Bennet.
Bonnie Bennett / Bonnie McCullough.
Arwen Undomiel.
Annie Edison.
Jade Redfern.
Mrs. Whatsit.
Leslie Burke.
Greer Norwood.
Lola Narcisse.
Roxanne.
Theresa.
Meg March.
Susan Pevensie.
Holly Golightly.
Clarice Starling.
Harry Potter
Lily Potter.
Arianna Dumbledore.
Luna Lovegood.
Victoire Weasley.
Leta Lestrange.
Fleur Delacour.
Rowena Ravenclaw.
Helena Ravenclaw.
Minerva McGonagall.
Queenie Goldstein.
Game of Thrones
Sansa Stark.
Margaery Tyrell.
Daenerys Targaryen.
Rhaenys Targaryen.
Rhaena Targaryen.
Joanna Lannister.
Melisandre.
Catelyn Stark.
Olenna Tyrell.
Anime
Nadeshiko Kinomoto.
Kaioh Michiru.
Hino Rei.
Kotomi Ichinose.
Risa Harada.
Misuzu Kamio.
Tohru Honda.
Rena Ryuugu.
Shion Sonozaki.
Maria Ushiromiya.
Beatrice.
Eva Ushiromiya.
Shannon.
Kiki.
Kikyou.
Haruhi Suzumiya.
Nerine.
Umi Ryuuzaki.
Reki.
Eri Sawachika.
Naruko Anjou.
Asami Sato.
Historia Reiss.
Naomi Misora.
Kiyomi Takada.
Rem.
mar 14 2019 ∞
mar 28 2019 +