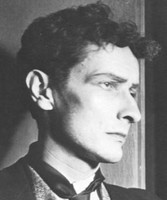 Baptiste Debureau - Jean-Louis Barrault in Les Enfants du Paradis
Peter Warne - Clark Gable's character in It Happened One Night
Howard Roark - Ayn Rand's The Fountainhead
Ned the Piemaker - Lee Pace's character on Pushing Daisies
Rhett Butler - Margaret Mitchell's Gone With the Wind
The Ninth Doctor - Christopher Eccleston's character in Doctor Who
Inigo Montoya - William Goldman's The Princess Bride
Mr. Knightley - Jane Austen's Emma
Gerald Tarrant - C.S. Friedman's Coldfire Trilogy
Dream - Neil Gaiman's Sandman
Malcolm Reynolds - Nathan Fillion's character in Joss Wheden's Firefly
Madmartigan - Val Kilmer's character in Willow - I know he wasn't the brightest, but he'd be a lot of fun on dates.
Atreyu - Michael Ende's The Neverending Story (So he was eleven. So was I, and old habits die hard)
Sherlock Holmes - Sir Arthur Conan Doyle
Indiana Jones -(Sean and Harrison)
Count Ladislaus de Almasy - Michael Ondaatje's The English Patient
Daniel Cleaver - Helen Fielding's Bridget Jones's Diary (Why, why did she end up with the boring one?)
Aragorn - J.R.R. Tolkien's Lord of the Rings
Severus Snape - J.K. Rowling's Harry Potter series
Batman
The Tenth Doctor - David Tennant in Doctor Who (I can like them both - it's my list.)
Shaun - Simon Pegg's character in Shaun of the Dead
Nathaniel 'Hawkeye' Poe - Daniel Day-Lewis in Last of the Mohicans
Theo Faron - Clive Owen in Children of Men
Carl 'Helo' Agathon - Tahmoh Penikett's character in Battlestar Galactica. Nerd love.
The 10th Doctor - David Tennant's character on Doctor Who.
nov 6 2006 ∞
jan 10 2014 +