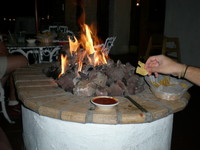 Norte's (formerly Fidel Norte, Carlsbad Village) - Name changed to Norte's because the married owners got a divorce. Their super strong margaritas are a must-have. I usually frequent this place with Kris and her boyfriend Jeremy, but Kyle, Heather, Emily, Aerick, and Aaron have all made appearances there with me.
Joe's Crab Shack (Oceanside Harbor) - Kyle and I always sit at the bar and Ben is always are bartender. We usually start with beer and calamari and then see where the evening takes us. Last time, we got trash can drinks, which came in cute little tin trash cans ironically. Those became our pimp cups for the rest of the week.
Pizza Port (Carlsbad Village) - When Kyle returns from the field, he only craves beer and pizza. It's a pain in the ass to find a table, but when you do it's delicious time.
Koko Beach (Carlsbad Village) - Not only is it right next to my work, but the kitchen is open till midnight. I've been known to drag my coworkers there have a good or shitty close. Sometimes the bartenders forget to charge us for drinks.
Macaroni Grill (Huntington Beach) - Whenever I drive up to Orange County to see Sarah, we usually meet up at Mac Grill. Everytime I say that I will venture out of my usual, but I never do. Always the create your own pasta bowl.
jan 29 2008 ∞
jan 29 2008 +