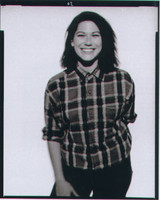 Pavement. That was/is a fast-moving obsession. One day, one of the few tracks of theirs I owned came up on shuffle, and I immediately was moved to go out and buy their two greatest albums, CRCR and S&E. A couple months later, I jumped on the chance to see SM & Jicks at First Ave., Minneapolis. Still the best $15 I've spent in 2008!
Guided By Voices. Thank you, John Sellers, for writing an obsessive music memoir that got me hooked on all things Pollard. I don't know how I got by without Alien Lanes and Bee Thousand before this!
Pixies. Hello! Don't even know where to begin with this, except they've been blasting from my car windows for the last couple months. It's glorious. Nothing better than getting out of class after a long day and putting on "Debaser" at full volume. (This has also sparked an ivestigation into the Breeders)
Wolf Parade, Sunset Rubdown, actually all things Spencer Krug. All I have to say is "I'll Believe in Anything" and "Shut Up I Am Dreaming Of Places Where Lovers Have Wings" are possibly two of my favorite songs of all time.
may 20 2008 ∞
may 20 2008 +