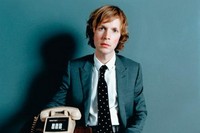 First word: "No!"
First pet: Two cats named Gomez and Mouse
First dog: A very awkward Italian Greyhound named Prince
First car: A cherry red Toyota Yaris
First job: Freelance graphic design for a carriage company - hardly a normal first job, I know.
First piercing: Ears, when eleven years old. I woke up, knew I wanted to do something incredible and different, called my grandmother and got it done. I was afraid to do it until then - something about needles worried me, but for some reason that day I didn't really care.
First foreign country visited: Honduras
First time in the prinicipal's office: No one was ever sent to the principals office in my day. We just dealt with administration. And my first time doing that was in 9th grade for being associated with my best friends when they graffitied the girls bathroom by covering it, wall to wall, with the word "Batman!"
First real concert: Duran Duran. My mom loved them to death and would take me with her to all the concerts she went to. We still go together to see them.
First celeb crush: Beck, in middle school
First "real" kiss: Age 13 at a tiny park by the intercostal
First best friend: Danyelle Layman, a wild Bohemian girl who I knew from kindergarten all the way into high school.
First cd bought: Green Day's Nimrod
First doll: A generic Barbie
First sport played: Basketball, when in elementary school
First halloween costume: A clown, I think. My mother dressed me up. Ironically enough, we have a picture of me crying in that costume.
First magazine subscribed to: Highlights, I suppose
First horror movie seen: I was pretty much raised on horror movies. I really can't remember.
First cell phone: A super-cool Nokia when I was thirteen that slid open instead of flipping.
First collection: Postcards
First instrument played: Piano, although not very well.
First career aspiration: Astronaut and a ballerina and an actress all at once.
First nickname: Hina - in middle school. I'm still not sure why.
oct 2 2008 ∞
may 26 2011 +