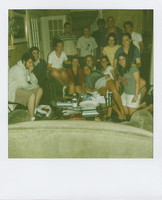 Pack Clothes, etc.

Jeans
Sweaters
Sweatshirts
Blouses (Hate this word...)
T-Shits and Long Sleeve Tees
Tank Tops
Coats

Green Army Jacket
North-face
Raincoat
New Military Coat (So excited!)

Athletic Tees ("Falcons!!")
Shorts
Sweatpants
Dresses
Skirts
Tights/Socks/Undies (hehe)
Plaid Shirts
Shorts (Athletic and Fashion Variety)
Scarves, Hats, Gloves

Buy/Pack Toiletries and Sundries (Love this word!)

Deodorant
Shampoo
Toothbrushes
Toothpaste
Super Skinny Serum
Blush
Shaving Cream
Body Wash

Get a Haircut (First one in a year!)
Organize Art Supplies

Pencils
Paintbrushes
Sketchpads and other various pads o' paper
Charcoals
Sharpies
Micron Pens (Get New Ones)
Supply Holders
Hot Glue Gun

Organize and Pack Books
Organize and Pack Movies
Buy Stamps
Learn How to Use an Iron
Pack Bags (A Ridiculous Statement)
Finish Friendship Bracelets
Take Lots of Pictures of Friends (Iluvmuhfriends!)
Finish the General Boxing Process
Play with my Cat (He's so cute!)
Organize Cameras and Accessories

Fish-Eye
Polaroid
SLR
2 Lenses
Tripod
Camera Bag
Camera Cord

Find Missing Clothing (How did I loose these...?)
Hug Sam Dolph A Whole Lot!
Don't Forget Anything!
aug 25 2009 ∞
may 15 2010 +