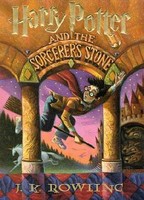 Harry Potter and the Sorcerer's Stone

Vernon Dursley
Petunia Dursley
Dudley Dursley
Minerva McGonagall (as cat)
Albus Dumbledore
Minerva McGonagall (as human)
Voldemort
Lily and James Potter
Rubeus Hagrid
Sirius Black
Harry Potter
Arabella Figg (the mention of)
Tom (barman at Leaky Cauldron)
Adoring throng (including Dedalus Diggle and Professor Quirrell)
Madam Malkin
Narcissa and Draco Malfoy (in Madam Malkin's Robe Shop)
Ollivander
Hedwig
Weasley Family (as noticed by Harry)

First Arthur and Molly
Then Percey
Then Fred and George
Harry notices Ginny crying and saying shse wants to go to Hogwarts too
Joined by Ron in compartment
Scabbers

Hermione
Neville (mention of lost Trevor)
Draco introduces Crabbe and Goyle
Snape
Sorting: Mention of

Abbot, Hannah
Blaise, Zabini
Boot, Terry
Brown, Lavender
Finnegan, Seamus
Macmillan, Ernie
Patil, Parvati and Padma
Thomas, Dean

Nearly Headless Nick
Fat Friar
Blody Baron (mention of)
Argus Filch (mention of)
Professor Flitwick
Professor Sprout
Professor Binns
Professor Trelawney
Norbert the Norweigan Ridgeback
Charlie Weasley (mention of)
Lucius Malfoy (mention of)
And I think that's it. After the giant points losing scandal Harry has met every person that will reappear in the series. I think.
jul 3 2009 ∞
jul 3 2009 +