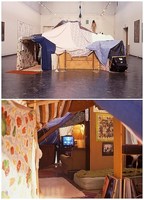 Okay, so even if this is all make believe...this is what I would want:
A little garden full of herbs and my favorite kinds of vegetables and fruit. Two big apple trees would sit at two of the corners. I would plant carrots and spinach and potatoes (regular and sweet), peppers, and watermelon. There would be trees all around, lots of flowers, a water feature
It would be by somewhere where I could take walks.
I'd have a little patio that lead out to a gazebo where I could read and have lunch and write.
There would be lots of windows.
The walls would be lined with shelves that were filled with books and pictures of people I love and places I've been and paintings and antiques.
It would be modern but the pieces that make the house would be old.
I would have a big kitchen
A fireplace is a must.
It would be warmly coloured.
I'd have dogs and cats and a little teacup pig.
The attic would by my studio of some sorts; for writing, for memories, for my computer and my ideas and everything.
It would be small, modest, but a very nice place to live. It would be old.
My children would have their own little places all to themselves, each and every one of them. I think it is important to have one's own "space"
A breakfast nook used for tea and talking
I really want my great aunt's dining room set and china that's in my dining room at this moment and time because it is old and very pretty.
dec 5 2010 ∞
jan 29 2011 +