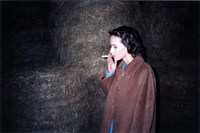 "Gandhi said that whatever you do in life will be insignificant. But it's very important that you do it. I tend to agree with the first part."
"Someone's been trying to tell me something. Make her yours forever, and I'm working on the forever part."
"If you could hear me, I would say that our finger prints don't fade from the lives we've touched."
- R M ( W F )
sep 11 2010 ∞
sep 11 2010 +