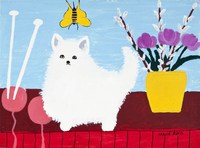 Na'aseh v'nishma--we will do and we will hear
being forever in the pre-trembling of a house that falls
neshama
For the world's more full of weeping than you can understand.
it goes on.
the holy or the broken
Goodbye ole paint, I'm a leavin' Cheyenne
I may be rancid butter, But I'm on your side of the bread.
He, too, was a lightning bug. He glowed; I glowed back.
I lie like land used up
your rose-meow smile
an orchard where the harvest fills the stars
The Andrew Carnegie of Trout!
jan 1 2013 ∞
sep 3 2014 +