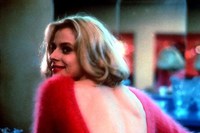 I could hear my heels clicking on the marble. I could hear the young woman in the black taffeta dinner dress drumming her lacquered fingernails on the table at which she sat.
the women in silk shirts and Chanel necklaces and Charles Jourdan suede pumps
John Wayne: A Love Song
the weary kind
I know something about dread myself and appreciate the elaborate systems with which some people manage to fill the void
You are the man that ruined her world.
jan 4 2015 ∞
feb 27 2015 +