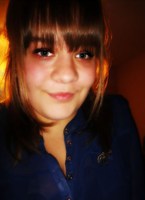 I'm twenty, levelling up in October.
I'm a natural blonde.
I have mainly blue eyes, with a touch of green.
I'm pro-choice, which is extremely unlikely to change.
I'm very much against the death penalty, no matter what.
I find it annoying that I need a stance on gay marriage.
I'm a curvaceous girl, and I kinda like it.
I've been single for the last two decades.
I'm working towards a degree in Classical Studies.
I'm currently employed in an office (hopefully not for long).
I'm desperately trying to get to Africa.
That, my dears, is the basics for now.
jan 15 2012 ∞
jan 30 2012 +