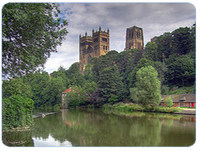 I've been accepted at the University of Durham. I haven't been this happy in a long, long, long time. I'm talking since childhood. This is a real, concrete dream. Here are some of the reasons I am in love with the University of Durham.
Its location is absolutely breathtaking. It's located in a quaint, rather small town that revolves around it, and its buildings are mostly historical. There's a river where I can go rowing, cobbled streets, a magnificent cathedral (I'll get to that later), and a Norman castle that's part of our World Heritage where students get to live! Not even Oxbridge students get to sleep in a Norman castle! I also can't imagine what else there is. Cafes, bookshops, antique shops, parks, and hidden corners.
It's one of the top universities in the world, and in some years the topmost in the UK (yes, including Oxbridge) where to study History. I was attracted to Durham mainly because of that. And as it is with most towns in England, it's close enough on the train to go anywhere and explore lots of historical landmarks that I could have only dreamt of if I had decided to study in Chile. Plus, the university itself is well endowed with historical content. There are century-old manuscripts for the students to analyse, and there is an Oriental museum pertaining to the University.
Durham University has a collegiate system. That's the closest to the boarding school system I dreamt of as a (Harry Potter-obsessed) child. It means I'll get to be part of an unique culture within a bigger culture, embrace a particular kind of "school spirit" and feel a sense of belonging for all of my life. I can't wait to make friends with whom I'll have a different variety of things to share, since I'll find people from every faculty. Colleges have their own sports teams and societies, and the buildings themselves are also very well equipped, with a library, a gym, a bar, sometimes a shop, and probably a cafe as well. There is even a cinema in one of the colleges! It's like going to Hogwarts, but you get to wear whatever you want!
Its student body seems really open-minded and friendly. More than anything I want to find a group of friends and feel I belong somewhere, and Durham gives off that kind of image - that there are lots of places where I could try to find a family. There are support groups, there's a student union, and almost every major event like balls, charity events, plays, orchestra venues and the like are organised by students. There are societies for absolutely everything one could dream of. These are the societies I think are most suitable for me:

Anglo-Japanese Society, because I'll need to make friends that speak Japanese in order to upscale my speaking skills.
Archaeology Society, because I want to study it after my undergraduate course
Art Society
Astronomical Society, because I adore astronomy but I'm too bad at maths to become a real astronomer
Baking Society, because I want to keep my baking skills alive even when the college I applied to is fully catered
Classics Society, because they also go to archaeology sites and discuss Ancient History (which I love), and they organise a Saturnalia Ball every December!
Creative Writing Society, because I really wish I could enhance my writing skills in some way, and my schools never helped me there
Design Society, because I love fashion and its historical roots and I also love designing, and maybe there I could learn more than basic sewing
Durham Student Theatre Society, because I wish for more chances where I could act, and I feel I have a lot to explore in that area
Harry Potter Society OBVIOUSLY
History of Art Society, because that's my other main area in which I'd like to get into once I graduate, and it's a great passion of mine
Kendo Club, because I'd like to engage in some kind of sport while I'm in college because my body will need it, and I'm fond of martial arts and have relative experience from doing Karate years ago
Mental Wealth Society, because it would be an honour for me to share my experiences and lead others into recovery. I'd love to help girls across the UK with battling their eating disorders. If I have the chance and the heartfelt experience to do this sort of thing, then why not? I want to be an input to society in a way and mental health would be a great alternative
Russian Society, because I'd like to learn more about their history and culture, and their language as well. It would be helpful as a History student, since I'm really keen on Imperial Russia
Shorinji Kempo Society, as a more spirit-centered alternative to kendo
Welsh Society because the less useful a language seems, the more attracted I am to it! My dad is going to kill me if I join, but my ghost will know how to haunt people in their sleep in one more language

Did I mention the Cathedral, and did I mention Hogwarts? Well, Durham Cathedral was used as one of the many real-life sets in Harry Potter. The corridors, the courtyard and some of the classrooms were filmed at Durham Cathedral. So basically I'll start my matriculation ceremony in a wizard-like black cloak after I receive my letter from Hogwarts (still waiting for a college), 7 years later. I loved this university before I found out about the Harry Potter tidbits, and that's how I know it's meant for me.