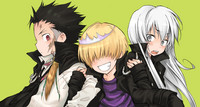 More like ... stuff I do when I feel depressed.
Listen: Chinen Hiroshi ★ Don't Stop
Listen: Sengoku Kiyosumi ★ Everyday
Listen: NEWS ★ weeeek
Talk to friends.
Sleep until I forget what made me sad.
Cry. I try not to do this unless I feel really upset.
Eat. I binge eat. DX It's pretty bad.
Write. Vent. Type up an entry on LiveJournal.
Find my sabre and hit a pillow with it.
Scream, sing my heart out, play the piano.
Read manga, books.
Watch particular anime episodes.
Slam doors.
dec 16 2007 ∞
dec 16 2007 +