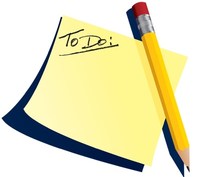 Finish painting the laundry room
Have sink faucet handles fixed.
House decluttered
Vacuum all upholstered furniture
Decorate patio w/ fairy lights, etc.
Get plants/flowers for the patio
Make Memory Quilt (J)
Make Memory Quilt (M)
Mail out parcels

April S.
Amber N.
Cheryl J.
Rebecca F.
Amber B.
Mark L.
Peter M.
Linda W.
Jim H.
Katie S.
jun 15 2010 ∞
jan 16 2011 +