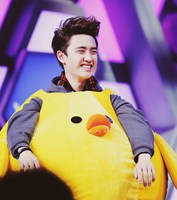 Satansoo
He's so talent, beyond singing like an angel he dances well, he's good at beatbox and his acting is so damn good
He so short that makes me wanna put him in my pocket
He is shy but also so sassy
SATANSOO
His eyes are so big and so pretty and when he does the puppy eye thing he gets so SQUISHY!!!
Ah yeah, he's so SQUISHY!!!
His lips are porn
Moles!!!
He expresses his love for the other members by hitting them
SATANSOO!!! I MEAN, DON'T MESS WITH THIS TINY HUMAN CALLED KYUNGSOO HE KNOWS WHERE TO HIT YOU AND HE WILL
He may seem arrogant but he is the cutest and the nicest person in the whole world.
may 12 2015 ∞
feb 15 2016 +