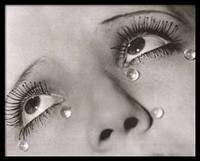 wearing the colour blue makes me feel sad all day
i try to take a nice long soak every week in a bubble bath and read a few chapters. heaven.
i would wear skirts and dresses everyday if i could.
i sometimes clench my fists while sleeping and i wake up because my nails have dug into my skin so deeply
most nights i have nightmares
i get overwhelmingly cold around 5.30-6ish everyday
tears gross me out
some days i don't even turn the tv on.
My favorite Disney film is Sleeping Beauty. One of my favorite colors is pink. But in that film I prefer it when she wears the blue dress. And I don't even like blue.
If I could play the guitar and sing (I can do neither) I would play/sing Bus Stop by the Hollies.
I have "Stars are Blind" by Paris Hilton on my i-pod. SSHHHHH.....
jun 1 2007 ∞
may 17 2008 +