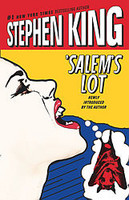 'Salem's Lot by Stephen King
Harry Potter
In Cold Blood by Truman Capote
the Godfather by Mario Puzo
The Valley of the Dolls by Jaq. Susann
Sex Drugs and Cocoa Puffs by Chuck Klosterman
The Sandman series by Neil Gaiman
The Bell Jar by Sylvia Plath
Haunted by Chuck Palanuik
American Psycho by Bret Easton Ellis
Sextrology
The Diary of Adam and Eve by Mark Twain
A Man Without a Country by Kurt Vonnegut
Flowers in the Attic (Series) by V.C. Andrews
Wicked by Gregory Maguire.
may 7 2007 ∞
jan 17 2008 +