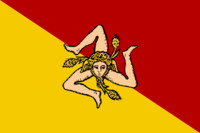 The beautiful sea, and lying out on the beach just reading and relaxing.
Sitting out on the balcony, drinking champagne and playing rummy to celebrate our 3 year anniversary
THE PIZZA
Napping outside on the balcony all day on Wednesday
Trip to Mt. Etna...I think we took 50 pictures of mountain smoking before we even got there.
In one of the many many gift shops that sell Volcano rock sculpted into all sorts of knick knacks, we meet the one little old lady who offers us the local peanut brittle. While enjoy this tasty snack and find a huge penis and ball combo made of volcano rock sitting on the shelf. It wouldn't see so odd if there had been several, but it was the only one of the shelf. I suspect that it's a lever that leads to secret room.
Amazingly tasty desserts!
Griff and I devised a new game, called Book Mush. We each pick a book, pick a page, and then call out a word. The words make a sentence, and each sentence makes up it's own little story. Our favorite? "I force cabbage in men"
The funny stares from people the first few days. We narrowed it down to one of the three:

i have a large lotus tattoo on my arm and I didn't notice a lot of people with ink on them
Griff and I are pretty openly affectionate with each other. We don't make out in public, but we do hold hands, and we didn't see anyone else doing that either.
I am ridiculously pale, and everyone was very very tan.

PREGGO!
jul 10 2008 ∞
jul 10 2008 +