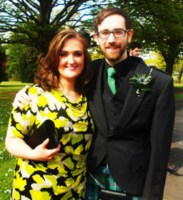 I'm 22 and a proud Pisces.
I'm a mum to a gorgeous boy called Eden.
I have Anglo-Irish and French parents.
I was born and brought up in London.
I spent my teenage years in Utah.
Today I live in Edinburgh and I love it!
I studied politics at Glasgow Strathclyde.
I speak fluent French.
I have converted to Judaism.
I'm socialist but politics scares me.
I love East Asian cuisine.
I work as an air stewardess with KLM (Royal Dutch Airlines) but I'm on maternity leave right now.
I'm pregnant with a little girl; due on November 12th.
I have a boyfriend called Daniel. He's a paramedic.
apr 15 2014 ∞
sep 12 2016 +