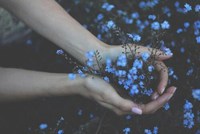 Physically
My collarbone.
My expressions
My hands.
My small height.
My long proportions.
My neck.
My soft, close-mouthed smile.
Personality
I am a very loving person.
I am brave.
I am deep.
I am determined.
I am grounded.
I am honest.
I am kind and sensitive.
I am loyal.
I am playful.
I am relatively astute.
I am resourceful.
I am spiritual.
I care about my community.
I stand up for what I believe in and for society's standards, even in the face of adversity.
I'm ethical, even in the face of adversity.
I'm invested in bringing harmony to my environments.
My connection to nature and eye for beauty.
My intuition.
My long-standing desire for peace, especially in the face of adversity.
Intellectually
I can memorize songs very quickly.
I love history.
I'm a good reader.
I'm good at strategy games.
I'm perceptive and understanding.
I'm usually good with puzzles.
I'm very invested in self-discovery.
I'm very passionate about the fine arts.
I'm witty.
It's a slow process, but I ultimately have fantastic memory recall.
Achievements
3rd place track-and-field relay.
Being naturally forgiving, even of deep trauma, since the age of four.
Better hair and skin care :)
Decent cook, when I don't use too many spices.
I can hook a T.V. up on my own.
I can live on my own.
I can pay rent (sometimes even on time!)
I can set up a phone.
I still believe in the good in people and in the world.
I'm living life a little more in the moment.
Reeling in my impulsiveness.
Sticking to a schedule.
mar 31 2016 ∞
jun 24 2018 +