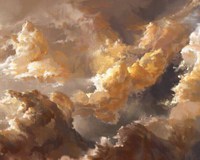 I do this list every year, if I can ♥ No need to break tradition!
Birthday wishes all around ♥
A new smokey quartz pyramid.
A bouquet of flowers (yellow roses, pink gerbera, lily of the valley...)
Getting "Lute Song" hair in Love Nikki Dress-Up Queen! And on a free pull!
Reading extensively about and being inspired by the physical and mental struggles of the brave and extraordinarily talented Emilia Clarke as she worked on Game of Thrones as Daenerys Targaryen.
A lovely drawing my boyfriend made of us being Belle and The Beast.

He is hardly recognizable in it - he never makes such a scary face!

A cute, belated birthday card from a school friend.
My new bob haircut!
High Tea with my Mom and a friend on Mother's Day.
Purple roses with baby's breath next to my burning white taper candle at midnight on a full Flower Moon.
New bright red sheets.
The annual trilliums coming up in the woods!
My mothers wedding pearls, given to me.
Dreaming that my new cat, Nightshade's, fur against my back was a monarch butterfly.
A picture of a bright red rose.
"I love you"s from my nieces.
A long night talking to my niece over lemonade.
Nightshade purring loudly for two hours after coming home from her spaying and realizing that she was truly home and safe.
A doe allowing her young fawn to approach me and sniff my hand.
Making my signature tomato soup for my parents and how much they loved it.
Making bacon-wrapped jalapeno hot dogs and getting a jalapeno burn on my hands.
The taste of pink starburst on Samhain night.
Learning to layer my necklaces.
Listening to my music box to help me sleep.
New pearl earrings for Christmas,
Starting to use my Grandmother's antique wooden mirror.
mar 24 2019 ∞
feb 26 2020 +