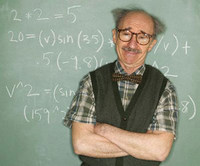 College is so much better when you have humorous or thought-provoking professors (and classmates).
Professor R. S., Biology I
Some of you have test anxiety. Well, there are really only two solutions for that: study well and get a good night's sleep or have a couple of drinks beforehand.
(reviewing lab safety) There's supposed to be a fire alarm in here, but I've never been able to find it. There are a bunch of buttons, so just start pushing those.
You know that if you get household bleach on your hands—God forbid you get it in your eye—it's gonna hurt like a son of a bitch.
This is a graduated pipette. That doesn't mean it went to high school or college.
Every action will require at least a small amount of energy. We call that free energy of activation. Or activation energy, for short. So, guys, she may go out with you, but you still gotta ask.
Some enzymes will accept one, and only one, substrate. Others aren't as picky, so we might go out with the slightly overweight guy if he's got a nice personality even though he's not exactly what we're looking for.
dialogue, during a group lab

Prof: Table 5, you're not contributing.
Rebecca: We're waiting, man!

dialogue

Prof: Most societies, not just Christian cultures, have laws against mating with anyone closer than your third cousin.
Morgan: Ew, that's gross.
Prof: What? You have a good-looking third cousin. You wouldn't want to marry him? Do you even know your third cousins?
Morgan: I have second cousins and I wouldn't marry them.
Prof: That's because they're your second cousins.

We all know not to marry our mothers or sisters— that's too close.
Anybody see that dot on my fingernail? No? Well, that's how small fruit flies are. How did Morgan see if they had red or white eyes? He had to squint real hard. He also had to determine which were male and female, so he pulled down the pants or lifted up the skirt.
You guys think tattoos and piercings are cool, but I'm gonna have a little plant growing out of my shoulder when they figure out how to do it without it killing me.
dialogue, "Every Morning" by Sugar Ray plays on radio

Maxine: (sings to herself)
Prof: Sing out loud.
Maxine: (sings louder)
Prof: Maybe not. Shhh. I thought it was gonna be good.
Maxine: (hides her face in shame) Let me try again.
Prof: That's okay.
Morgan: She didn't turn her good voice on.
Professor C. R., speech
Content should be interesting and worthwhile. Worthwhile doesn't mean it has to be serious. If you're a funny person, you can give a meaningful speech and still make us laugh at eight in the morning. But if you're not a funny person, don't try. There's nothing more embarrassing.
(discussing proper speech attire) I saw a man down the hall who was obviously a professor dressed in a tweed jacket with tie and briefcase. I come in here with a ratty old shirt because I don't care. I can impart the same knowledge no matter how I dress, so I don't care how you look. Whether you shave or not is entirely up to you, ladies.
I had one student who talked the whole period about the care and keeping of tropical fish. I have an aquarium, and I eat fish. I don't eat my tropicals, but fish is my favorite food.
(on the ethics of giving a speech) One student told us he had to leave class for two weeks because his grandfather was dying of cancer. Of course he had everyone's attention. He went on about how his grandfather was a school principal and how he had to care for his grieving grandmother. Girls were choking up, I had a lump in my throat like a cantaloupe, people were wiping their eyes. When he was done, he said he made it all up. After we rushed to the podium to beat him senseless... No, I'm kidding. My point is: you shouldn't lie to us.
One girl was so nervous about speeches that when I told her you can't get a degree from any Florida state school without taking Intro Speech, she seriously considered moving to Alabama where they don't have that requirement. I wanted to tell her, "Well, you're a damn fool," but I didn't because I'm a gentleman.
Now, look at Tiger Woods. When he's not lying down, he's golfing.
(to James) You always wear the nicest hats. At least they're not baseball caps on backwards. That's the damnedest thing. And men with earrings, but that's another thing.
Why do people say "tuna fish"? It's a tuna sandwich. You don't say, "I ate a bass fish sandwich." It's my life's goal to never hear that again. It's stupid.
(sniffing a dry erase marker) Wow, you can get high off this thing. You smell that?
I don't know how I lived before ESPN came on.
Uhhh... Think how moronic that sounds. I yell at the television, "Stop saying 'um,' you stupid— person!"
Don't come in here when you're sick. I don't want to be poisoned.
James is always late—fashionably late—so we can see the outfit.
"I found this sign: Friends welcome; family by appointment. I thought it would be funny if I hung it on my front door, kinky if I hung it on my bedroom door, and perverted if I wore it." -Asa
dialogue

Prof: Asa, why do you have a chain on your wallet? Isn't it heavy?
Asa: Well, my pants are heavy, so I don't notice.
Prof: But what's the point of it?
Asa: Sometimes I wear my wallet out and I don't want people to steal it.
Prof: Then I wouldn't wear it out.
Asa: I hook the chain to my pants, so people would have to break the chain or take my pants.

I like to be conned by pretty girls.
dialogue

Prof: I had the best parents in the world, I think.
Taber: Mine are better.
Prof: Well, I hope so. Mine are dead.

Women are like buses: you miss one, another one comes along.
dialogue

Prof: Julia, you're next. Oh, you're not here.
Figgy: She'll come the last day of class.
Prof: To receive her "F"?
Debra: She's just really, really sick. Maybe.
Prof: Thank you, Debra. Spoken like a true mother.

Very good, Figgy. Your personality shines through as I'm sure it always does. You vibrate just sitting there. -Prof. C. R.
dialogue

Prof: I've been reading your sweatshirt. Did you make that or did it come like that?
Jessica: It came like this!
Prof: Where'd you get it?
Jessica: Victoria's Secret.
Prof: Oh, I don't go there. Or Hot Topic. I went a couple of times because I had a student who bought all her clothes from there. Weird girl.

dialogue

Prof: What's for breakfast?
Jessica: Hash browns.
Prof: They're good for you.
Jessica: Are they?
Prof: Oh, yeah. They're vegetables. Fast food's good for you, especially before a game.

"Are you reeeaaady? 'Cause I'm not." -Taber, before her speech
"This last piece of advice is for the softball team, so if I could have your attention, please: This college needs you, but you need dates." -Mesomil, on the benefits of eating dates
dialogue

Prof: When the Jehovah's witnesses come to my house, I tell them I'm an Episcopal priest and to go away.
Debra: My house is on the list that they automatically don't go to.
Prof: How'd you do that?
Debra: My husband answered the door naked.

dialogue

Prof: You're wearing a Japanese whatever-you-call-it.
Asa: It's a martial arts outfit.
Prof: Are you in martial arts?
Asa: No.
Prof: Then why do you have it?
Asa: Because I bought it.
Prof: (dumbstruck) You always have the damnedest answers.

dialogue

Prof: How did you make that noise?
Asa: It was a party popper!
Prof: I don't believe I know those. How do you use one of these?
Class: Don't point it at your face! Hold it, and pull the string. Pull it harder.
(pop!)
Prof: (deadpan) Well, isn't that festive?

(after James's speech on Java) Do y'all feel stupid right now?
When you turn forty, your eyes physiologically change. If you meet someone over forty without glasses, they're a freak.
No one ever strikes out in a slow pitch. You get hit everywhere, and everywhere was my body.
Mini, get some clothes on. I worry about you.
dialogue

Prof: What does Justin Bieber do?
Class: He sings. He's really big.
Prof: Oh yeah, he's huge. But years ago, there was another small boy, David Cassidy. You probably don't remember him. He was real cute, but then he grew a beard and his career was over. I hope the same thing doesn't happen to Justin Bieber. I hope he's saving his money.

The only reason I can think that a person would be against gay marriage is because it's against their religion. I don't care if a man or woman marries an oak tree.
dialogue

Prof: Do you have a girlfriend now?
Mini: No.
Prof: No one to hustle at Burger King?

dialogue

Carly: Can I go on Thursday?
Prof: Why would you ruin my whole day by doing that?
Carly: Because I'd ruin your whole week if I go now.
Prof: (laughs) Okay, you can go Thursday because you came up with a good line.

dialogue

Prof: Have any of you ever had an allergy test? What do they do?
Debra: They scratched my back with various allergens. I had 120 scratches.
Prof: (eyes bulge) How long ago did you get that done?
Debra: I do it every two years.
Prof: Oh. So they haven't invented a modern technique.

dialogue, after a pro-capital punishment speech

Prof: Ted Bundy won't be killing anyone anymore, will he?
Taber: I don't know who that is.
Prof: You don't know who Ted Bundy is? What are you, ten?

I don't think you should be executed for a bar fight.
dialogue

Prof: Mesomil, you've lived in many countries. They don't mess around with that, do they? They kill right on the spot.
Mesomil: No, we have trials.
Prof: Well, yeah. But then you take him out back and behead him.

dialogue

Prof: Forcible rape should be a capital crime. That's one thing guys don't have to worry about.
Debra: No, it's been proven it happens the other way around.
Prof: I don't understand how the anatomy would work.
Debra: Drugs are usually involved.
Prof: You mean a beautiful woman at a bar will slip a man a roofie and have her way with him?
Debra: Yeah.
Prof: What bar?

(referring to Jehovah's witnesses) They don't celebrate Christmas? I think that's child abuse.
I rarely go to the Winter Park Village because I can never find parking and I have a handicap placard... mentally handicapped.
"When I was young, I cried so hard because I wanted a coloring book and my mom wouldn't get it for me because I was behaving bad. She just picked me up and carried me out. My aunt and uncle asked what she did to make me cry so hard and my mom said, 'I'm really proud of myself. I didn't lay a hand on her.' And my uncle was like, 'What?' Slap, slap." -Figgy
dialogue, about a stealing customer

Prof: Did you beat the crap out of her?
Debra: Oh, yeah. She's got a black eye and a broken nose.
Prof: Oh, good! Is there a video?
Debra: Yup.
Prof: Can you bring it in?
Debra: When the police are done with it, sure.

I'll be damned. That's why I come to college, to learn Bert and Ernie are gay.
dialogue, after a speech on bullying

Prof: How did you choose this topic?
John: I wasn't very cool. I was a geek. I was in band—
Prof: Well, that'll do it.

dialogue

Prof: I've never had a five-hour energy. Do I want to try it?
Figgy: It can give you a heart attack.
Prof: Oh, I don't want that. I can have that all by myself.

dialogue

Prof: You mean there are girls who won't wash their hair for three months?
Schwana: Yup. They're what we call "hoodrats."

dialogue

Prof: You're a pleasure to have in this class, Asa.
Asa: Does that mean I get an A?

dialogue

Asa: Was I supposed to go today?
Prof: Yes. Are you ready?
Asa: No.
Prof: (dumbstruck, then laughs) No matter what class I have next semester, it won't be as lively because you won't be in it.

dialogue

Prof: You had a curfew at 9?!
Figgy: I'm Hispanic!

I only had one girlfriend in high school. I figured I can't do any better, so why look? Well, I looked, but...
I've had a lot of lady friends. I'm not a monk, y'know...
dialogue

Debra: I shot both my first husband's knee caps.
Prof: Wait a minute. You can't say something like that and let Schwana talk about whatever the hell she's gonna talk about.
Debra: I caught him in bed with the babysitter.
Prof: Oh, that explains it. Can he walk?
Debra: He limps.
Prof: And does your second husband know what you did?
Debra: Oh, yes. And he's very faithful.

dialogue

Prof: I've only been to Wal-Mart three times in my life. There aren't any near here.
Taber: Yuh-huh! There's one on 17/92!
Prof: That is the worst shop in the history of the world.
Taber: There's one in the Seminole Towne Center.
Prof: I don't go out there. That's a foreign country to me.

"If you look in your cart and have twenty of one item, that does not count as one item. That's twenty items." -Schwana, referring to the 10 items or less checkout line
dialogue

Jessica: Do you wanna go?
Taber: No, you can go.
Jessica: Are you sure?
Prof: I don't care which of you go.

I never begrudge athletes their paychecks. It's the owners who are stupid for paying them that much money. If I were an athlete, I'd suck every penny from whatever idiot is willing to pay me.
A eulogy is about someone who is dead. I say "dead" not "laid to rest." It's like when people say, "I put my dog to sleep." No, you didn't. You killed it.
dialogue

Prof: You seem to be in a very good mood.
Me: I am! I have a lunch date after class.
Prof: Is this your first date?
Me: First official date.
Prof: Oh, I know what that means. I don't want to hear anymore.

Good luck on your date. I didn't mean good luck. I meant have fun. Very lucky man.
dialogue

Prof: John, you're speaking today, right?
John: Yes, but not first.

Their grade is sinking like a Japanese navy.
"Ties are expensive. I don't really know what the difference is between a $35 tie and a $5 tie." -James
"When I'm the only guy on shift, all the girls will get together in a circle and talk. Even the managers! And I'm the only one doing all the work." -Asa, referring to McDonald's
"I had an old manager when I used to work for flowers. Well, selling flowers, not working for them." -Asa
"When I told my brother that I liked a girl at school, he was like, 'So, you're gay?' And I was like, 'Apparently.' Then he took my hand and dragged me to the living room with all his friends and said, 'Guess what! My sister's gay!' I was like, 'That's not something you publish out of nowhere!' And he said, 'Don't worry— you just got cooler!'" -Mini
dialogue

Prof: You get Facebook in Afghanistan?
Mini: He gets wi-fi on his laptop.
Prof: (speechless)
Debra: He doesn't know what wi-fi is.
Prof: No, I don't, but I see it on the signs.

dialogue

Prof: Did your mother know you were giving this speech?
Mesomil: No.
Prof: If my child gave a speech like that about me, it would be better than any Christmas present, so get on that damn Facebook and tell her. I'll ask you next week and if you don't, you'll go from an A to an F.

dialogue, in April

Prof: How old are you? Eighteen?
Jordan: Nineteen. I'll be twenty in October.
Prof: Happy Birthday.

Don't ask me. I just work here.
dialogue

Prof: Are you sure Jordan isn't with Mini? It's nice to see romance in the classroom.
Figgy: They're just friends.
Prof: Whatever you say.

No one enjoys food more than I do. I haven't met food I don't like. I could eat six doughnuts right now.
dialogue

Prof: Rarely, rarely do I ever get a tribute on a husband or wife.
Jessica: I'm not married.
Prof: Fiancé, then?
Jessica: Not yet, but hopefully.
Prof: Does he know that? It's important he knows.

dialogue

Prof: You have a big brain, don't you?
Asa: Generally?
Prof: It changes?
Asa: The size of my brain depends on what I did the night before.
Professor W. R., Precalculus
Next week is spring break, either a great time to catch up or a great time to forget everything. Please, don't.
Professor J. W., English II
I was talking to someone the other day who said he's God, I'm God, we're all gods. Well, that's been tried. Mankind starts thinking they're hot tamales and they reach a certain point where they can't keep going.
No one writes as badly as I did when I was your age. My professor even pulled me aside and said, "You can't write, dammit!"
I hope one day you'll turn off the boob tube. There's so much crap on it these days. Like Charlie Sheen. What a jackass he is for throwing his life away the way he is. People are like, "Oh, poor Charlie Sheen." The only reason I feel bad for him is he's nuts. And you have to pray for him.
Charlie Sheen degrades people, calls them a turd—whatever that is.
Try to be happy rather than pleasured. That's the problem with our society.
Go to any other country. They'll remove your head or stone you to death for being gay. It's bigotry on steroids.
If I give you too high of a grade and you wanna complain...
(referring to Hamlet, Act V) A court jester on one hand; Alexander the Great on another. They both end up in the same place: dead. It makes you think about life and what we consider to be so damn important.
A mother's love is amazing. What you ladies have in you is amazing and beautiful. Never let anyone tell you different.
Evil exists. Ignoring evil is naïve.
It's not a financial problem; it's a moral problem this country has.
Professor K. K., Anatomy and Physiology I
(reading off answers) 67. 76. Why I do that? To see who is dyslexic.