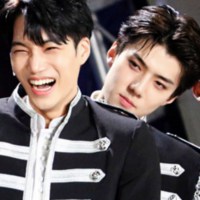 could it think, the heart would stop beating. - fernando pessoa
i present to u [drum rolls] a masterlist of some of my favourite fics ive read through 2014 up till now
1. joie de vivre / 61k / not rated
Sehun doesn't sleep. Jongin makes coffee. This is not the fairy tale story of a Starbucks barista and his roommate. angst, romance, slice of life
2. sore loser / 16k / explicit
It's the middle of summer, and with Sehun's parents on vacation out of the country, he and Jongin have spent the better part of two weeks sitting on the couch playing through every video game they own. Although it seemed like a perfect plan at first, by the end of those two weeks they're bored out of their minds. A little bet should make things interesting again. friends with benefits, dude/bro!sekai, pwp
3. LOL UR SO FUNNY but pls stfu / 4k / mature
Internet boyfriends!au where Sehun is horny and Jongin is failing his classes and Soojung doesn't help at all. text fic, internet boyfriends
4. (you make it easy) to fall in love / 5k / explicit
Sehun doesn't expect a lot of things. fluff, romance
5. pur(r)ification / 3k / explicit
Jongin wants a cat. Sehun buys a kitty-ear headband and tries to be cute. sex toys, petplay, rimming, pwp
6. let's get physical, physical / 9k / explicit
Sehun likes going to the gym for the cardio; definitely not to ogle at the hot guy that lifts. mutual pining, love at first sight, slight body worship, dirty talk
7. 100 days and counting / 12k / explicit
Sehun had no idea who he was making out with on Baekhyun's snap story. snapchat au, flirt!jongin
8. all an act / 12k / mature
For a number of weeks, it has been speculated that long-standing rivals Kim Jongin and Oh Sehun will be appearing in a movie set to release early 2018, taking on the lead roles as a young homosexual couple in what is expected to be the best coming of age romance of the year. Neither Kim nor Oh has released an official statement regarding the rumor so do take this with a grain of salt. What do you think, though? Rivals filming together; hit or miss? actors au, rivals to lovers
9. sing while california is dreaming / 1k / explicit
Sehun is silent and broken, and Kai doesn't know how to make it better. hurt/comfort
10. champions 6k / mature
The development of the relationship between Kim Jongin, the school's prized striker, and Oh Sehun, the school's undefeated sprinter. college au, sports, locker room shenanigans
11. in another life... / 6k / explicit
12. and their sins are / 1k / explicit
A confession box isn't really a place for altar boys to fuck. Jongin thinks otherwise. pwp, church sex
13. be a good boy for me, babe / 3k / mature
sehun would've paid good money for jongin's mouth to be considered the eighth wonder of the world. pwp, blowjobs, canon
14. i lose control & shiver deep inside / 2k / explicit
"Do it, Jongin," Sehun urges, eyes staring into Jongin's, equally dark and filled with lust. Jongin nods and tightens the band of the belt across the slender column of Sehun's throat and thoughtfully watches as the pale skin reddens along the edge of the black leather. pwp, slight pain kink, frottage, choking, rough sex, canon
15. dizzy to distraction / 4k / explicit
Studying gets risky when stripping and bets get involved. friends to lovers, college au, strip games
16. seven deadly virtues / 19k / general
Based on the prompt: A depressed guy moves into a haunted house with seven demons, each corresponding to a deadly sin; but they're all trying to help him get back on his feet and get it on with his best friend. In other words: Sehun's home life, love life and academic life are all gradually crumbling down until he moves into the haunted house at the outskirts of town. angst with happy ending, paranormal, supernatural, college au
17. the playlist [from a to z] / 50k / explicit / ongoing
In which Sehun and Jongin decide to work their way through an alphabetical list of kinks and sexual explorations. college au, exhibitionism, blindfolds, body worship, double penetration, food play, crossdressing, knifeplay, blood play, friends to lovers
18. buns of steel / 7k / explicit
In which Sehun dreams of becoming a mini Sex God and enlists the help of an actual Sex God, Kim Jongin. trainer!jongin, smut
19. salvation of a sinner / 12k / explicit
"Your sins fit you like a glove." – Oh Sehun. In which Kim Jongin, having hit rock bottom, summons a demon by the name of Oh Sehun to aid him in an act of revenge. demons au, character death
20. is that a python in your pants or are you just excited to see me? / 36k / explicit / ongoing
Jongin, Yixing, Baekhyun, and Jongdae get a new flatmate. Jongin thinks he's gorgeous. The cats think he smells like a snake. hybrids (snake/human + cat/human), college au, fluff, smut
21. suspension / 2k / mature
Casual handjobs while they watch porn on Jongin's computer is one thing. It's the kissing Sehun isn't sure what to do about. handjobs, mutual masturbation
22. letters to you... / 43k / mature
deaf/mute, medieval au, romance, tragedy
23. prodigialis / series / explicit • lusus naturae / 100k / • thread of fates / 100k / • cosmic pandemonium / 40k / ongoing
In which Sehun is born with occult and power to bend weather. His atmokinetic Flair strikes him a ticket to the most prestigious mutant academy in the world—Flairers' Academia. But his biggest predicament gremlin which he has to face in every Combative Defense Arts class is his dogmatic, pedagogue, roguish, arrogant, aggressive instructor Kim Kai who specializes in Superhuman Agility. teacher/student, sci-fi, fantasy, love hate, college au, mutant, poly: sekaihun
24. genesis to eschaton / 57k / explicit
twincest: jongin/jongin, dystopia, physical disability, sci-fi, artificial intelligence au
25. king's lost prince / 89k / explicit / ongoing
A vengeful assassin Prince and a sadistic, cold-blooded King. The half-brothers' shattering adventure. fantasy, royalty au, assassins, action/adventure, incest
26. treat me like fire (babe) / 13k / explicit
Sehun spends most of his life worried for his life, because Jongin is an overzealous cop that likes to do things in the most dangerous way imaginable. Somehow, they manage to solve cases and come out with their heads intact – that is, until they finally catch a lead on a cold case and things start going south. Somewhere along the way, feelings become too much to handle. With enough pressure, all dams eventually break. fbi au
27. sit, stay, play / 1k / explicit
Sehun shows off what a good pet he has. exhibitionism, voyeurism, master/pet, daddy kink
28. rising like the smoke, you linger on me / 8k / explicit
Jongin smells like he's loved and protected and wanted, and he is—just not the way he wants to be in his weaker, more pathetic moments. omegaverse
29. sunlit / 6k / mature
In which Sehun and Jongin are childhood best friends with something stronger than friendship tying them together. 19days au, high school au, feels
30. chrismas in midbury / 9k / explicit
Missed opportunities. Wrong turns. Poor choices. They had cost him the most precious person in his life. Maybe he would never fall in love, maybe he would never be ready to let go of Kai. But holding Kai back would be the most selfish thing he could ever imagine doing. He could not drag Kai down with him. 90's au, rentboys/prostitution, angst
31. summer lovin' / 18k / teens & up audiences
Summer of 1954. Sehun's new in town, and Jongin shows him around. At least, that's how it starts. 50's au, slice of life, internalised homophobia, fluff
32. gone in the morning / 3k / mature
Jongin loves Sehun, but he can't do everything, not when Sehun doesn't tell him anything.
33. and the rest would be pizza and bear / 13k / mature
A surprising turn of events on a rather uneventful night lands Kai a precious friendship he wants to treasure for the rest of his life. slice of life, romance
34. my body is your party (nobody's invited but you, baby) / 7k / explicit
the one where ceo jongin gets dragged to a strip club and he's having a lousy time until a pretty boy gets on stage and catches his attention. stripper au, ceo!jongin, pole dancing, lapdancing, come eating, porn with plot
35. let me be your doctor, let me take you home tonight / 4k / explicit
the one where sehun loses a bet to Baekhyun and has to wear a sexy nurse costume to a halloween party. crossdressing, porn with plot
36. anathema / series / explicit / • sightless anathema / 53k • enchanting anathema / 60k
The wondrous thing about falling in love is that you never know when and with whom you will. Two Princes, two brothers, two soul mates embark on an extraordinary journey and a mystical adventure on which they face brutal obstacles, find love, make unthinkable promises, confront betrayals and abandon hope. twincest: jongin/jongin, medieval royalty au, fantasy
37. call me... (baby? monster? no, call me hyung) / 10k / explicit
the hyung kink fic friends to lovers, mutual pining, kinky
38. give me all that you got now / 2k / explicit
"D-Daddy, please..!" "You're gonna have to use your words if you want daddy to know what you want, baby." dom/sub, daddy kink, pwp
39. get a little closer / 4.5k / explicit
Sehun's never had a blowjob. Jongin's more than willing to help him out. fwb, best friends, first time blowjobs, fluff
40. internet boyfriends / 2.9k / explicit
texting, video call sex, masturbation
41. open heart, close your eyes (kissing strangers) / 2.7k / general
Sehun looks up, and suddenly feels like he's going to pass out when he finds himself staring at his own image on the screen, him and Jongin framed perfectly in the center of the heart filter. kiss cam, first kisses
42. i became the boss for you / 8k / explicit
Through years and years of hard work, Jongin finally makes it in the fashion industry. He's rewarded for his hard work at his first ever Paris Fashion Week with the stunning Oh Sehun. Since that day, his life becomes a whirlwind of silks, long legs, and dreams of a greater future. fashion/models au, frottage, rimming, pwp
43. don't / kiss me / 20k / teens & up audiences
Crushing on a best friend is never a good idea. When he's dating another of your friends, it's even worse. Or, alternatively, Sehun really wants to kiss Jongin but he doesn't want to fuck up his friendship with either Jongin or Chanyeol. poly: sekaiyeol, friends to lovers, mutual pining
44. got me up all night (all i'm singin' is love songs) / 10k / teen & up audiences
Tumblr famous ulzzang Sehun and b-boy Jongin meet. tumblr au
45. twenty reasons / 12k / explicit
In which Jongin and Sehun are put into an arranged marriage, and have to navigate their first year together. arranged marriage au, light angst, infidelity
46. blackberry eyes / 300 / teen & up audiences
"He had blackberry eyes..." synesthesia, psychopathology/sociopathology, mental institution
47. black cloud / 7k / explicit
It's Halloween, and Jongin is determined to get over his ex by getting laid. college au, face-fucking
48. wade deep / 20k / explicit
In which Sehun is jealous that his best friend turned roommate is spending too much time with Taemin, so he decides to sleep around to get his attention. sekai/everyone, mild slut shaming, threesome, college au, roommates
49. flesh in the law / 5k / explicit
Jongin has a reputation as a mysterious tough guy on campus, but in the bedroom he wants nothing more than to be completely dominated. sekai/everyone, college au, semi-public sex
50. cream / 12k / explicit
In which Jongin is the CEO of a confectionary company and Sehun is a high-class escort that Jongin hires for an event. A certain chain of events lead to Jongin becoming (probably) the nicest sugar daddy anyone can ask for. escort service, sugar daddy, rimming
51. up the window trellis / 1k / explicit
In which Jongin watches too many movies, and Sehun can never say no to him. highschool au, pwp, dry humping
52. tongue tied twisted / 9k / explicit
In which Jongin has a crush on his boss's new boyfriend, which wouldn't be so bad if Sehun didn't seem to be just as attracted to him. fashion/models au, office voyeurism, sexual tension
53. we're not who you think / 36k / explicit
Sehun scrambled through his roommate survey questions, as he had left them until the last moment, not realizing he had set up the rest of his first year at uni with the answer to one question: Preference toward hybrid roommates (Indifferent). hybrids, enemies to lovers, slow burn, angst, college au
54. i will never let you fall / 3k / not rated
55. sweet shiver burn / 9.8k / explicit
In which Sehun expects a nerdy roommate and instead gets a roommate he can't stop obsessing about. college roommates au
56. and we'll be running / 18.6k / explicit
Sometimes Jongin kisses Sehun like he's making a promise that he can't keep, and Sehun is to much of a sucker to push him away and run. mafia au, romance, angst
57. you're BOOTY-ful / 2.3k / explicit
58. roommate wanted / 17.8k / explicit
Jongin just wanted a roommate. He got a lot more than he bargained for when Sehun entered the picture - but hey, at least rent would be cheaper. college roommates au, awkward sexual situations, first times
59. my best friend is a camboy / 4.2k / explicit
In retrospect, Jongin should have known better than to tell Sehun his little secret. camboy!jongin, voyeurism, crossdressing, masturbation
60. anything you synthesize / explicit
Not all those who wander are lost. Some only know too well that their place is inside a three-by-eight, sleeping, sleeping, sleeping liquid crystal. futuristic au
61. break my heart in two / 16k / explicit
The thing is, Sehun knows the twins a little too well. twincest: jongin/jongin, dp, breathplay, angst, fluff
62. death trap / 4.6k / explicit
Maple syrup and rimming. Nuff said. good boy/bad boy, rimming, pwp
63. a dime for a dream / 6k / explicit
People like him could dream after all. rentboys, prostitution
64. some kind of wonderful / 1k / explicit
Sehun always, always wants to try something. first time
65. cock envy / 21.6k / teens & up audiences
Jongin is jealous of all those cocks Sehun has, especially since Jongin's the one that brought them home. humor, mutual pining, friends to lovers, fluff
66. caution tape romance (ova series) / 8k / mature
Sehun's new roommate has a secret. fluff, humor, romance, mutual pining, mild kink
67. 190 mph / general
reincarnation, major character death, royalty au, war, romance
68. givin' you the best you ever head / 3k / explicit
69. to live in ashes / explicit
"make a wish," he says, and jongin thinks of hot springs and pain killers and raindrops falling on the dry skin of his face. angst, canon
67. rum pum pum pum / 2k / explicit
sehun has an ass that jongin just can't ignore. ass play
68. a falling painter / 8k / general
The world will come to Kim Jongin's funeral, but nobody will truly be at his funeral. angst, tragedy, slice of life
69. hands, hands, hair / 3k / explicit
Baekhyun thought his boyfriends would never find out about his hair fetish. poly: sekaibaek, threesome, college au
70. kim jongin's guide to loving oh sehun / 7k / mature
71. selective vip / 3k / explicit
sehun has shitty friends who force him into a host club on his 18th birthday. he's not even legal. but then again, neither is the host. host clubs, prostitution, first times
72. we're just taller children / 15k / teen up audiences
When Joonmyun decides to add Oh Sehun as the sixth member of their crew, Jongin seems to be the only one that has a problem with it. criminals au, heist
73. you for the moment / 1k / teen & up audiences
Life in a small town is too limiting for Jongin's dreams after high school, but can he leave his boyfriend Sehun behind? angst
74. everything is beautiful far away / 16k / explicit
"We are best friends." Sehun says out of nowhere. "…So?" "This shoot is different. Would you feel comfortable lying in a bed with me, pretending you are my lover?" exhibitionism, fashion/models au
75. simmer down and pucker up / 7k / teen & up audiences
Jongin smiles up at him, tipsy. His cheeks burn -- more from the alcohol than anything else -- and he says, "I can see into the future. I'm in your future." The man's laugh is a soft snort. "Okay," he concedes. "But doesn't that also mean I'm in your future too?" college au
76. wednesdays are not zen days / 3k / teen & up audiences
College librarian Sehun keeps dropping the books he's supposed to be shelving. Jongin has an essay due and he needs Sehun TO STOP. library au, college au, awkward/shy crushes, glasses!jongin, fluff
77. i know your lips like the back of my hands / 3k / mature
Sehun claims that he can tell his bandmates apart by their kissing technique alone. The boys want to test it. sehun/everyone: ot9, exhibitionism, voyeurism, lots of kissing
78. rivaux: reboot / 156k / explicit
Sehun shows up at the agency with hopes to become someone worthy of holding his surname. He is soon tangled in a messy web with the agency's top-notch, notorious agent Kai. Inspired by ICoS by Ais and Sonny. assassins/hitmen, action/adventure, sexual tension
79. here comes the sun (and i say it's all alright) / 700 / general
sehun greets him with a hiccup, a sob threatening to break, but jongin doesn't ask―doesn't pester him with what's wrong or don't cry or it's going to be okay because jongin isn't ever sure if it really will be. hurt/comfort, best friends
80. the windrunner's startrail / 86k / explicit
Sehun, a rich, noble-bred Christian. Kai, a peasant, and a pagan. "No. My God wouldn't call what we had just done an abomination. But if I am an abomination for loving you so, then by the Sweet Lady, I will be honoured to be the damnedest abomination to ever walk the earth." internalised homophobia, religious conflict, forbidden love, heavy angst
81. dysfunctional delight / general
misunderstandings are always fun and games. blind dates, crack
82. overlapping worlds / general
They live in the same house, in the same space, at the same time. In the same world, but not really.
83. ivy / explicit
libary!sex before the search for time. library sex, public sex
84. absentia / explicit
Sehun wishes to see the future. He unknowingly jumps in time and loses five years in the past. Slowly, he realizes, he didn't only lose time. He lost a lot. drama, slice of life, romance, angst
85. allegro / explicit
there's kai, and then there's jongin, and as reality slips through jongin's fingers like sand as he dances under a single spotlight. ballet au, angst, romance
86. a sinner or a saint / 24k / explicit
oh sehun was from a strict christian family. his father was a pastor, who had already decided sehun's life plans for him. When the boy kim jongin, with bleached blonde hair, tattoos covering his body and a couple of piercings moves into the neighborhood, right next door to sehun, his life plan might be altered. sehun is strictly forbidden from associating the rowdy looking boy, who's a 'sinner' in sehun's father's eyes, but sehun is drawn to him, like a moth to a candle. angst, romance, homophobia, good boy/bad boy au
87. 30 day smut challenge / 10k / explicit / ongoing
lots of smut of all kinds, jongin/everyone
89. make me lose my breath / 2k / explicit
Today, Sehun he wants something he just can't do by himself, something that he needs Jongin for. college au, dirty talk, breathplay
90. lights, camera, action / 6k / explicit
zkdlin has been oohbaby's loyal viewer for over a year now, showering the camboy with praises, compliments, and gifts whenever he wants. zkdlin is the only one who gets to know oohbaby off camera, and soon, he'll get to know him in person, too. camboys, lingerie, age difference, sex toys
91. of cupids & pink things / 5k / explicit
Sehun honestly can't think of a better way to reward his boyfriend than to dress up as Cupid. After seeing his outfit, Jongin can only agree. valentine's day, rimming
92. how to cool down / 6k ) explicit
On a disgustingly hot day in August, the Freshman dorm's air conditioning breaks. All Sehun wants to do is take a cold shower to cool down, but everyone else has the same idea, and all the showers are full. Luckily he finds someone who will share. college au, shower sex, public sex
93. wet blanket / 1k / explicit
kai and sehun are inseparable love/hate
94. fantasy / 3k / explicit
Sehun just wanted his prime shower slot back, but what he got was so much more. pwp
95. stakes / 10k / explicit
Jongin has no idea how to tell Sehun what he really wants. sexual fantasy, come kink, d/s, facials, rough sex, wet dreams
96. get cocky / 4k / explicit / ongoing
Sometimes in the middle of Wednesday, during Global Politics, it occurred to Jongin as he measured along his thigh where the tip of his dick would be if it was as big as Sehun's, that he spent way too much time thinking about his best friend's cock. college au, size kink, reverse size kink, dude/bro!sekai, cock worship
97. you're part of a machine (you are not a human being) / 16k / explicit / ongoing
It's the year 2038, and androids have finally become a reality. Machines built to answer to your every need, what could be better? But when androids begin to deviate from their owners by running away, disobeying orders, and even self-destructing, Lieutenant Kim Jongin of the Detroit City Police Department is put on the case to find the root of the deviancy problem. Oh, and he just so happens to be getting a helping hand from an android by the name of Sehun. As they investigate deviant cases together, they end up learning a lot about the world, themselves, and each other. futuristic au, android/human, drama & action, crime scenes, angst, slow burn
98. matcha & honey / series / 25k / explicit
In which Sehun stress-bakes, has an unforgettable one-night stand, becomes a frequent flyer, and has unparalleled sexual tension with his very attractive boss. one night stand, rough sex, dom/sub • red bean brioche with cold brew / 13k / explicit / drama & romance, office sex • affogato / 23k / explicit
99. i want to hold you like you're mine / 4k / explicit
In which Sehun plays football and Jongin plays with other people's hearts. major character death, highschool au
100. i'm trying (to laugh) / 3k / general / 2017 valentine's day gift from aesthete to me. thank u ily queen
sehun is a self-proclaimed "meme king" on twitter. jongin is an instagram model who endorses detox tea and posts hot selfies. he's not sure how they ended up this way, either. social media au, college au, humor
101. milk / 5k / explicit
ass worship, foreplay, catboy au, mpreg, daddy kink
102. wind me up and make me crawl to you / explicit
sehun being into humiliation. humiliation, crossdressing
103. skirts, sweet lips and strawberry kisses / 2k / explicit
Sehun dresses up all pretty for Jongin while sucking on a lollipop. Sex ensues. crossdressing, pwp
104. skin flush, lips sweet / 6.6k / explicit
Kim Jongin's first time is unlike no other. exhibitionism, voyeurism, first time, overstimulation, sex toys
105. if you go chasing rabbits / 47k / explicit
Jongin keeps having strange dreams about one of his classmates. college au, alice in wonderland: madhatter!sehun, white rabbit!jongin, dream sex
106. that's what the storm's all about / 3k / teen & up audiences
Sehun doesn't know whether he should be surprised or not in the least upon seeing the familiar figure balancing on the window sill, one hand resting against the glass with and open palm and the other holding onto a twig of the tree. lost im your orbit au, love me right au
107. lost in your orbit / 66k / explicit
They couldn't be more different if they tried. Sehun is rich, snobby, and maybe just a little curious about the world. Jongin's pierced, tattooed, and more tempting than the devil. The union of a good boy and a fuck-up. love me right au, good boy/bad boy, slice of life, romance, bdsm themes
108. sickly sweet synths / 46k / explicit
arranged marriage, infidelity: sehun/chanyeol, romance
109. caught between mercury waves / 25k / explicit
Sehun is sent to assassinate the youngest prince of the Kim dynasty. But he's caught between failure, southern waters, and the human embodiment of lust that takes form in grey eyes and silver hair. royalty au, exhibitionism, voyeurism, masturbation
110. how to not work in retail / 5k / explicit
Sehun really shouldn't be flirting with the customers, but this one is just too hot to resist. non-penetrativs sex, thigh fucking
111. mind if i slither in? / 19k / explicit
The population of Mars has a small percentage of aliens, but Jongin doesn't know how to tell them apart from humans, and the locals think its fun to keep the difference secret from newcomers. Meanwhile, Jongin meets the boy of his dreams in the form of his gorgeous, beautiful baseball team captain. college au: sports, tentacles, prostate milking, sci-fi
112. j / 3k / mature
Jongin just wants to show the world that Sehun is his. highschool au, romance, fluff
113. show me where your dick's at / 2k / explicit
Sehun can't stop thinking about Jongin's dick. size kink
114. the inevitable farewell / 35k / mature
Jongin will defy everything if it means carving out more time for Sehun. sci-fi, time travel
115. but i'll protect you for life / 28k / mature
All Sehun wants is to feel safe. mafia au, dom/sub, daddy kink, angst, rimming
116. somnambule / 9k / general
Sehun acquires a dreamcatcher. Instead of catching dreams, it catches the attention of a dreamwalker. fantasy, dreamwalking, highschool au
117. a deluge in slow-motion / 10k / general
Kim Jongin is everything a celebrity should be. He's tall and handsome, and the dark waves of his hair look soft under the sunlight. He limps with the ease of someone who knows his body well. Sehun wonders if it's because he's a performer that he's able to keep a smile on his face, despite the way his face tenses at the bumps and the way his leg hangs between each of his steps. slice of life, fluff and angst, physical therapy
118. one for the road / 17k / mature
"Not only is this road trip a celebration of their last year of college, but it's a celebration of their friendship. There's just one teeny, tiny, little problem: Jongin may-or-may-not be in love with his best friend." road trip au
119. office hours (let's work on it, baby) / 11k / explicit
Sehun and Jongin are CEO and secretary. They're fuck buddies, too, no strings attached. office au, fwb, romance, angst
120. if you wanna play it like a game / 14k / explicit
Curiosity driven by sexual frustration and over a month's worth of temptation is bound to lead to sin.
121. in theory / 12k / explicit
jongin wonders what a finger in his ass would feel like and sehun wonders if ramen is back in stock on mondays. high school au, first times, dude/bro!sekai
122. butter fingers / 4k / explicit
kai thinks the world was created for idealistic safety and optimism while sehun thinks kai hasn't smelled enough burnt powder yet to enjoy danger. gun play
123. attaché / 16k / explicit
there were supposed to be no strings attached, but all jongin became was attached. he didn't realise when he fell or how hard the thought of sehun with someone else would hurt, but it does and - he feels numb. fwb, friends to lovers
124. blow out your candles / 3k / explicit
sehun's friends hire a lapdancer for his birthday, but that isn't quite the present he receives. (he may also get a boyfriend out of the bargain) birthday sex
125. daylight robbery / series / explicit
series of one-shots set in an au wherein sehun and jongin are ceos of their own family companies. ceo au
126. endgame / 16k / explicit
sleeping with the lover of east asia's most dangerous arms dealer wasn't one of oh sehun's brightest ideas. mafia au
127. double trouble / 6k / explicit
twincest: sehun/sehun, daddy kink, threesome
128. feeling this / 5k / explicit
with a little incentive from his friends, sehun helps jongin step out of his comfort zone.
129. you like it wet (and so do i) / 3k / explicit
in retrospect, if sehun had known the delivery man from ups was going to give him the greatest enhancement to his sex life in the history of everything ever, he probably would not have greeted him with the waffle iron face. crossdressing, daddy kink
130. you know where to find me / 3k / explicit
no one at school questions sehun. crossdressing
131. xciv / 4k / explicit
in which jongin gets a humanoid for his birthday, and sehun turns out to be the best gift ever. android/human
132. when i think about you (i touch myself) / 3k / mature
Jongin has been watching the man in the neighboring apartment building for quite some time. voyeurism
133. we're on sugar high, baby / 4k / explicit
sehun falls in love too easily, has an asshole as a best friend and likes sugar.
134. spin dry, tumble dry / 3k / explicit
laundry day is a bit overrated. it's a lot more fun when you do it at night.
135. the art of seduction (oh sehun style) / 8k / explicit
where sehun falls for jongin, his new college roommate, and luhan is absolutely no help. college roommates au
136. the perks of dating kim jongin / 6k / explicit
in which chanyeol makes a powerpoint and sehun can't hold his alcohol.
137. the tails of kai / series / 25k / explicit
When Sehun comes home there's a stray cat on his back porch. A handsome, somewhat foul tempered stray, and even though lots of people say not to feed stray cats, Sehun doesn't see the harm. cat/human hybrids
138. toilet stop / 22k / explicit
kim jongin, or for his friends 'kai', and his best buddy byun baekhyun were destined to share their hotel room, on their trip to beijing, with two boys of the class they didn't quite know well yet: park chanyeol and oh sehun. but since the boys were only sophomores of their high school, several toilet stops on their journeys were necessary. and during those toilet stops jongin got to know sehun's true self. high school au, school trip
139. unlined & electric / 3k / explicit
for all intents and purposes, jongin is considered to be one of victoria's secret's most prolific models. fashion/models au, fem!sekai
140. untangle me / 6k / explicit
jongin doesn't do one-night-stands, and sehun isn't a bottle of fine wine, but he'll have to do anyways. one night stand
141. walk of shame / 1k / explicit
jongin keeps catching sehun right after showers.
142. up close and personal / 7k / explicit
Who knew bboi88 aka his nerdy online gaming friend Kim Jongin was actually the famous Youtube and Instagram star Kai? Sehun certainly didn't. online friends
143. so caught up in you / 6k / explicit
jongin tells himself there's nothing special about sehun, but he's always been a bad liar. high school au
145. slices of summer / 1k / explicit
Sehun and his boyfriend Jongin try to beat the summer heat. scaterboy!jongin, summer vacation au, established relationship
146. five finger salute / 1k / explicit
"sekai fisting lol jesus.docx" fisting
147. fermata the blue / 17k / explicit
Sehun immediately feels threatened by the new intern. He's used to being the only hot young intern, and the addition of a second might make him irrelevant. He decides the only solution is to give the poor new guy a really hard time. But Jongin's got a few of his own tricks up his sleeve. office intern au, asshole!sehun, eventual smut, power bottom
148. happy endings / 1k / explicit
baby's first porno viewing (d)evolves into messy masturbation. masturbation
149. hey there, summer boy / 7k / mature
not everyone kisses a stranger and meets kim jongin in one summer; sehun is not everyone. summer au
150. hundred dollar kisses / 6k / mature
sehun deals in pain while jongin deals in pleasure. angst
151. it's in my bones / 800 / explicit
its a little different with them
152. jingle my bells / 5k / explicit
"Hey Sehun, if you jingle my bells I can promise you a white Christmas." pwp
152. kkangpae(깡패) / 14k / explicit
mafia au, dirty talk, spanking, orgasm denial, slight bondage, rimming, branding, hematolagnia, knife play, breath play, forced exhibitionism, gun play, russian roulette, rough sex
153. knock-out, baby / series / mature
a series of one-shots set in an au wherein sehun and jongin are college boyfriends! college au
154. let's go all the way tonight (no regrets, just gay) / 5k / explicit
kiss him and see." who knew those four simple words would lead to super high school level sex? well written crack fic, rimming, best friends to lovers
155. love is patient / 3k / explicit
The whole world could be against them, but as long as Jongin has Sehun's love, everything will be okay. troubled!sekai, romanticising of depression, self harm
156. melt your body / 1k / explicit
he's so desperate, sehun wants to laugh. bdsm, crossdressing, daddy kink, orgasm denial, sex toys
157. mess you up (indulge in you) / 2k / explicit
He shouldn't have let Sehun talk him into it. Or rather, back him into a corner and sexually arouse him into saying 'yes' with Sehun's knee between his legs; which is accompanied by a series of dirty whispers that Sehun knows worked to his advantage. sex toys, begging, voyeurism, exhibitionism, pwp
158. multiplication / 3k / explicit
2 sehuns and 2 jongins, selfcest
159. never doubt i love / 11k / explicit
Jongin has watched Sehun go through boyfriend after boyfriend, scumbag after scumbag, and it's killing him. It's hard enough to see it happen to your best friend, let alone the boy you're in love with. high school au, hurt/comfort, best friends to lovers
160. nine-tenths of the law / 1k / explicit
Sehun has always been a little possessive, but luckily, Jongin likes to be owned. collars
161 no more but(t) / 2k / explicit
Bathtub!sex inspired by the lightsaber MV. Also, Jongin being obsessed by Sehun's ass. That's it. That's the fic. bathtub sex, ass worship, established relationship
162. blond ambition / 4k / explicit
It's Sehun's birthday, and he just really wants to see Jongin with blond hair. college au, fwb, dude/bro!sekai
163. nothing but summer / 32k / explicit
While lifeguarding on the beach, Sehun has to deal with the obnoxious guys from his class who think they can skimboard. One is Kris, who he's had a crush on for years. Another is cute, flirty Jongin, who might be just what he needs to get over him. lifeguard!sehun, first time, comeplay, edging, beach au
164. oils and acrylics / 6k / explicit
When Oh Sehun meets Kim Jongin, he thinks he's found the most valuable piece of art for his collection. rimming, age difference
165. open mind / 4k / explicit
Jongin can't control when the feeling hits him. It doesn't matter what he's doing or who he's with, it creeps up on him like an old friend and worst enemy rolled into one. He knows, when he starts to feel the low strum of heat in his tummy, that he doesn't have long. His hyungs try to help, but he's searching for something he won't find with them, searching for one person who's not there. asexual character, hurt/comfort, fluff, angst
166. pseudologia fantastica, or something along those lines / 7k / explicit
jongin is a nympho and sehun doesn't really know what to do about that, but he fucks jongin a lot, and it's painful. rollercoaster of emotions, angst, major character death (emotionally removed/not explicit), fuck buddies, fuckedup!jongin
167. purr for me, baby / 2k / explicit
When master is away, the kittens will play. cat/human hybrid
168. untangle me / 6k / explicit
Sehun was in the middle of enjoying the party when he gets issued a challenge: go upstairs where someone is handcuffed to a bed and fuck them, no matter who they are. Sehun accepts. strangers to lovers, bondage
169. two of a kind / 2k / explicit
Jongin just wants to nap but Sehun has other ideas. cat/human hybrids, mating cycle/ in heat
170. skydive / 2k / explicit
...and it feels like flying. romance, canon
171. (you're my) winter heat / 14.8k / general
Jongin has always been in love with his best friends' love. But when it comes to himself, he doesn't know if he's even capable of having it, especially through some app called Tinder. slice of life, super super fluffy
172. lovesick, the beat inside my head / 7k / explicit
Jongin plays football. They're crazily good at what they do. They are also horribly in love with each other, and everyone knows it. college au, sports, fluff and smut, established relationship
173. you grow gardens in me / 10k / explicit
Before love stories can be epic, they have to begin. college au, sports, how sekai get together in fic #172
174. roughhousing / 7k / explicit
Sehun's worst nightmare is coming true: he has to film a video with the biggest asshole he's ever met in his life, Kim Jongin. pornstars, unresolved sexual tension, lingerie
175. three men in a hot tub / 7k / explicit
Chanyeol and Jongin's onsen trip takes a turn when they meet a pretty boy in the men's bath. threesome: sehun/jongin/chanyeol, public sex, reverse size kink, groping
176. just relax / 3k / explicit
Sehun finds a way to mess up Jongin's tempo. exhibitionism, hair pulling, rough sex, bratty sehun + grumpy jongin
177. soulbinder / ongoing / explicit
When Sehun binds his soul to an Alpha in a Regnandi pack, he is only fifteen. Over the years, one tragedy after another leaves him forlorn and abandoned, his soul still longing for its binder. As an androgynous Omega in an Aequus pack, Sehun has no chance of becoming an Alpha's mate. And his soulbinder is not going to risk expatriation from his pack and family by accepting an Aequus for a mate. omegaverse, soulmates, fluff, angst & heartbreak
178. red / 7k / explicit
After nearly a week of nightmares, the beautiful face that greeted him in his dream felt too good to be true. horror, selfcest: jongin/jongin, threesome: sehun/jongin/jongin
179. full throttle / 13k / explicit
Jongin's life is simple. He spends his days at his auto shop and his nights at the biker bar, and whenever he races, he always walks away with a win and a fatter wallet. His Ducati has been the love of his life for years. But things change somewhat when a new biker comes into town and challenges the status quo right off the bat. bikers au, slow build, friends to lovers, piercings & tattoos, rimming, riding
180. tell 'em / 2k / general
Sehun inhales deeply and his chest aches with the warm weight of Jongin in his arms. surfer bros, friends to lovers, bromance
181. run the heart / 4k / general / part 2/prequel of #180: tell 'em
Sehun had first met Jongin when he was six and his father had decided to humor his obsession with surfing with a trip to the local surf shop on his birthday. surfer bros
182. what's your game / 76k / explicit
Sehun likes to smoke and drink but what he really loves is feeling a nice deck of cards shifting between his fingers. When he brings the beauty who sleeps in the subway home one night, he had no idea what's waiting for him—doesn't know what sort of world the hustler will draw him into. passionate romance, miscommunication, hustlers au, action
183. 'tis the nightingale and not the lark / 12k / general
Happily ever afters just don't always happen. mafia au, romeo & juliet au
184. what crime did commit, officer? / 3k / explicit
Sehun doesn't know what crime he's committed, but after seeing the hot deputy, he'd gladly do it again. police au, outer space, spanking
185. just relax / 3k / explicit
Sehun finds a way to mess up Jongin's tempo. hair pulling, exhibitionism, rough sex, bratty sehun
186. run and gun / 4k / explicit
Jongin gets hurt, Sehun takes care of him. Except not really. gun play, criminals (heist men)
187. talk dirty to me / 9k / explicit • part 1 of 5, all parts are standalone
Best friends Kai and Sehun go to a party and end up more than a little tipsy. After a dare goes further than Kai expects (and he learns an interesting new thing about himself), he's worried about what Sehun will think of him. Little does he know that Sehun is more than willing to help him through his… hard time. high school au, best friends
188. every rose has its thorn / 14k / explicit • part 2: TDTM
After spending their last summer together before college, Kai and Sehun agree that it would be best to end what they have going on between them in order to experience college life to the fullest. When Kai brings a "new friend" home with him for Christmas break, however, Sehun quickly decides that that may have been a big mistake. confession, jealous!sehun
189. spring break / 2k / explicit • part 3: TDTM
It's their last night of spring break, and Kai asks Sehun to try something new. pwp
191. antici... / 4k / explicit • part 4: TDTM
Sehun convinces Kai to enter a costume contest with him. Sehun really likes Kai's costume. halloween, crossdressing
191. yes, obviously / 6k / explicit • part 5: TDTM
Sehun and Kai have been perfectly happy together for three years, so why is Sehun suddenly making every excuse he can think of to avoid seeing his boyfriend? marriage proposal, fluff
192. 'til the veins run red and blue / 4k / explicit
Kim Jongin is a young ambitious doctor but everyone has skeletons in their closets. doctors au, friends with benefits
193. high tide / 18k / explicit
Or, alternatively entitled, 'I Really Hate My Life But Mostly Oh Sehun.' Jongin is just your average, run-of-the-mill horny college kid who's in love with his average, run-of-the-mill horny best friend, Sehun. Surely life isn't supposed to be this hard? angst, friends with benefits