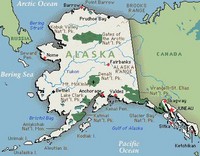 I might be living in . . .
Los Angeles, CA had my father taken custody.
St. Marys, GA had Ms. Chun not offered to raise my mother's salary and pay for moving expenses to Jacksonville where she opened a new restaurant.

Also, at least two men proposed to my mother and many more were infatuated with her even though she barely spoke any English at the time. To American men, she was an exotic Asian doll.

Honolulu, HI had my mother accepted Alan's proposal. He was a bit older, retired from the Navy, a mutual acquaintance through my then godparents. She did not care to marry another Korean man.
Virginia Beach, VA had my mother let Uncle Kevin and Auntie Lecky (the godparents mentioned previously) adopt me. Actually, Lecky wanted my sister and Kevin wanted me, but my mother couldn't separate us. They had no children and thought my mother should find another husband, but her chances were slim with two young kids. They finally offered to adopt us both, but my mother still refused.
Jacksonville, FL had my mother not remarried. They met here and dated on and off for four years. After my mother's rejection of his first proposal, he practically stalked her. Sometime after, he moved to Orlando but continued seeing her.

This is the most pivotal point in my life.

Seattle, WA had my mother and her husband decided to move here. They visited for a week, but I think it was more of a whim than a serious contemplation.
Juneau, AK had my mother decided to run my father's hotel-restaurant business and divorce her husband.
Gainesville, FL had I chosen to attend the University of Florida rather than Beloit College. I hope I don't regret my decision.
Beloit, WI had I continued my education at Beloit College. Actually, Beloit is the first place I ever did consider home. I've moved around so often during my childhood that I always expect to be uprooted after a couple years.
nov 15 2008 ∞
aug 26 2010 +