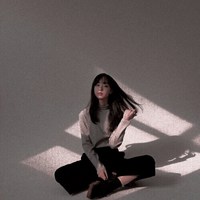 April —
Sitting on the train, gazing outside the window, seeing a rabbit running around on a sunlit meadow.
Losing weight without even trying. Since I've stopped taking my meds and went vegan I'm losing ALL THE FAT. Even on weeks where I'm just too lazy to work out. And even when I eat tons of vegan chocolate at night.
Obsessions of April: wasabi peanuts, NBC's Good Girls (I watched the first fourteen episodes within two days because I just couldn't stop watching it. Omg. I'm so freaking addicted to this show atm. The last time I was that obsessed with a show was in 2016 when I watched the first two seasons of How to Get Away With Murder. Remember when I got up at 4am just to watch a new episode? Yeah, I think I might to that again with Good Girls.), peanut butter, Mumford & Sons (I mean, I've been obsessed with them for almost nine years, but now with the concert coming up it's just getting more intense).
Going plogging for the first time. Taking the dog for a walk and collecting glass bottles and plastic. Sometimes I think our world can't be saved anymore. It isn't just the plastic, it's just... everything.
Spotify shuffling Basil Hogios' Apricot while I read the last few pages of Through Black Spruce. Man, I almost cried, it was so intense.
FC Bayern winning against Dortmund with 5:0. Man, there's almost nothing more satisfying than this.

Also, finding out Serge Gnabry is actually vegan.

Munich. Doesn't matter what I do there or where I go, I always just enjoy being there.
Tumblr deleting my blog. They didn't even warn me, they didn't tell they were going to delete it, they just did. Within one second it was gone, 8+ years of writing and creating and happiness. And it makes me really sad and mad. There were THOUSANDS of memories on there. Not just on my blog but also in my Likes. I had thousands of photographs, poems, playlists and songs, inspiration and random notes, drawing references, writing prompts and just small things that made me happy when I looked at them saved. I basically spent half of my youth on this website. And even if it's just a website, it shaped me. Tumblr made me realize I am bisexual. Thanks to Tumblr I got to meet some wonderful people. It inspired me to write and make art. It sounds like I'm exaggerating but I'm not. I think for a long time Tumblr was the only place where I could talk about my sexuality and mental health issues, express my feelings and write about how I am, who I am. From 2011-2015 it was like my daily newspaper. I don't understand why they would just delete a small blog like mine? I mean, I didn't break the rules and I didn't even blog original posts, I just reblogged tons of shit. I e-mailed the staff and asked them why they deleted me but they didn't even reply. It's just weird?
Olympiapark. Trying to find cherry blossoms. (Not finding them.) Having a lovely vegan meal at Dinea. Haven't been there in ages even though it's one of my faves. Not buying anything at the OEZ. Those tiny corners and cute cafés and bars near the Schrannenhalle. Listening to Eluveitie on the train back home.
Those midnight fitness sessions where I'm sweating like a bitch and just want to die.
11 times we shipped Beth and Rio on Good Girls.

They make me feel like a 16 year old fangirl again and I LOVE IT.
NBC renewing Good Girls for a third season. Yassss.

That random woman on the street greeting me and telling me my hair colour looks nice.
The new Star Wars teaser. Gosh, I'm so excited again.
Making the yummiest curry: coconut milk, pak choi, chickpeas, zucchini, onions, mushrooms. That amazing spice mix I got.
Finally filling the last pages of my dream journal. I started writing them down in 2015 and I now have around 400 dreams in my journal, sometimes I included sketches.
Walking around Dießen. Having a really good coffee. Spending some time at the lake. Bird watching. Dog watching. People watching. Then driving to Riederau because I realized I've never been to that part of the lake.
Spending Easter with my parents. We don't celebrate Easter but still, we wanted to do something together so we took the steamboat to Herrsching. Spending some time at the market there. Having a really good veggie pasta.
May —
Finally seeing my favourite band live again. I owe them so much. They always make me feel so awakened, they make me want to become a real person again, they make me want to be alive again, especially the live version of Delta.
Visiting J. in London. Spending a few wonderful days in her flat near King's Cross. Colourful doors and wisterias in Notting Hill. Quietness in St Luke's Mews, falling in love with those black and pink houses. Seeing beautiful corners everywhere. Finding a lovely vegan café at Neal's Yard, having a cocoa "milk"shake (loved the edible flowers - pansies - even though they didn't taste like anything) and banana bread. Experiencing all four seasons in one day (typical English weather). Spending at lot of time in bookstores, just looking at books, touching and smelling them and getting inspired to start writing again; spending way too much time in the Paddington and Winnie the Pooh aisle. Buying The Cruel Prince. Walking so many kilometres our feet hurt. Falling in love with the Old Spitalfields Market (and their vegan burritos). Oh London, you're a vegan paradise. Beautiful SoHo corners - I can't wait to come back to discover the wonderful bars and pubs in SoHo, I imagine hot summer evenings and cocktails and sweaty dancing and cute British guys. Or girls. Or whatever. Watching Paddington (lol) and having lots of feels. Breakfast at The Farm Girl Café, having an açaí granola bowl (delish!), orange juice and black coffee. The Farm Girl is definitely one of the most beautiful cafés I've been to. Colourful Notting Hill houses. Trying to take a nice selfie at the Tower Bridge (and failing). Fiiiinally seeing Wicked again.
Brio finally kissing in Good Girls! Ohgosh, I'm such a fangirl it's hilarious. And a little bit (well, quiet a lot) in love with Christina Hendricks and Manny Montana.
Sexting with B. Nothing serious, just lots of fun.
Finally starting The God of Small Things. It's been on my bookshelf for quiet a while now and Roy's writing style is beautiful, just how I expected it to be.
Those orgasms...so intense you feel like you're having an out-of-body experience. Maybe I'm not good with love, maybe I'm only good with lust.
Rain. Lots of it but still not enough.
Seeing wild baby bunnies running around a small green area in Freimann. There was a bunch of them, at least twenty. And I even found two rabbit holes.
FC Bayern winning against SGE with a 5:1 and becoming the German champion... again.
Finally meeting M. She's adorable and has the softest, friendliest smile.
Dancing all night, dancing until my feet started to hurt. Getting a bit tipsy. Starting to really really love gin tonic. Those two cute guys. Their girlfriends were with them so yeah, that sucked. But whatever. I had a great time.
Finishing Against a Peacock Sky within two days. I think I'm falling in love with reading again! In 2018 and the first five months of this year I haven't read that much, I spent too much time on my phone (did I really become one of those people!?), especially on Instagram and YouTube, but I think my love for books is coming back. (Thanks to Lea for introducing me to ASMR rooms!)
Obsessions of the month:

NBC's Good Girls. I can't believe Season 2 will be over soon. How will I survive this hiatus? I can't wait for nine months, I NEED THIS SHOW IN MY LIFE ALL THE TIME.
Watching Sims 4 videos on YouTube (especially the ones by Plumbella because I just love her) and having the urge to buy a gaming laptop just so I can play Sims again.
Listening to Robin Hobb's Ship of Magic on audio. At first I started listening to the audiobook of Assassin's Apprentice but I just couldn't really get into it and found it boring - also, there were too many male characters in the book. And after watching Insert Literary Pun Here's video about the Realm of the Elderlings books I decided to listen to the Liveship Traders audiobooks first. (Especially after reading that basically EVERYONE who read the Farseer Trilogy hated the third book.) IT IS HUGE, more than 35 hours, but I'm intrigued by the world. Let's see if I manage to finish all three books (103 hours of audio!! Good Lord...).
Manner Neapolitaner waffles. (Only the vegan ones, of course. I am obsessed with them.)
Black coffee.

Finding Church of Marvels (the hardcover! And the book looks amazing, it doesn't look used at all!) and Born with a Tooth on Medimops. Both books were on my To buy next list on Goodreads (which is getting smaller and smaller!) and they were only a few bucks so yay! Also, I recently got rid of some of my old books so I don't feel bad at all for buying some new ones.
July —
The National Geographic video of Delta.
Selling some old CDs and books to momox and actually getting 30€ for all that crap!
I haven't seen this season of Let's Dance - only one episode or so - but Ella's Trio Dance gave me all the gay!feels. Man, she makes me want to dance again.
Obsessions of June:

rewatching Kelsey's 100 Baby Challenge on YouTube. It feels like a TV show, I love it.
Killing Eve
Billie Eilish
Liskin Dol

Binge watching Charmed Intuition Tarot on YouTube. I'm a spiritual person and love to work with energies etc but I actually don't believe in tarot. But then I saw this video and for some reason it made me so emotional and I felt like she read my mind. At the same time it was really calming to watch it, like meditation.
Netflix cancelling Santa Clarita Diet. I mean, yeah, it wasn't the greatest show but I'm still gonna miss it. Also, ABC finally renewing How to Get Away With Murder. Season 5 was horrible but I really need Flaurel to reunite so I can't wait for Season 6!
Sometimes I feel like someone - or something - else is controlling my life. There's something wrong with my brain but I don't know what it is. All my doctors or therapists have different opinions and diagnoses, it's driving me nuts. Thinking about what I could do. I really want to get in touch with a shaman, but I find it really hard to find a real one. Hm.
"What I have inside me bursts the bonds of life." - Anna de Noailles.
That cute little house in Friedberg - it was hidden behind a bunch of bushes and trees and plants were growing everywhere. It looked like it had secrets hidden in its garden. So beautiful and mysterious.
Sitting by the lakeside. Finding out the kiosk serves cappuccino with oat milk! Seeing SO. MANY. DOGS. And that one dog that came up to me so I could pet him. BLESS HIM. The way the light was hitting the trees.
Vegan banana bread and fresh strawberries.
Feeling like shit, spending a day in bed. Haven't done that in years.
Starting Born with a Tooth by Joseph Boyden and already falling in love with it after reading the first few sentences. I can see lots of similarities to Through Black Spruce and I really love it, and I love to read about Native Americans. I think I found a new favourite author with Boyden, his writing style is beautiful.
Vegan Schupfnudeln with Sauerkraut.
Current favourite songs:

Billie Eilish - Ocean Eyes
Billie Eilish - Bad Guy
Grimes - Oblivion
Billie Eilish feat. Khalid - Lovely
The Middle East - Blood

Rewatching old videos by Raffa. She makes my day better and I love her.
Seeing a lonely firefly flying around in our garden. Magical.
Finding Ursa Major and Jupiter in the night sky. That weird spiritual feeling I get when I look at the stars.
Singing Bury a friend. Rico cuddling me as if he wanted to comfort me.
Seeing weird moving light objects in the night sky. It didn't look or move like a plane, but it also wasn't the ISS - I checked the time. Weird. Also Jupiter looked so bright it almost scared me. I want to be an astronomer in my next life.
Taking Rico for a night walk. Seeing another firefly flying around.
Cara Delevingne and Ashley Benson's relationship is goals. I love them.
Budapest with Jule.

That super friendly bus driver letting us take the bus for free. ("It's okay!") Probably because he realized we were super tired and basically done, lol.
Spending a few hours at the Széchenyi Thermal Bath. We should've gone there in the morning or evening, but we didn't have enough time. At first it was a bit awkward with so many people in the bath (not really relaxing and like a Fleischbeschau lmao) but after a while it was okay and we could actually enjoy it a bit. I really want to go there again someday, maybe on a winter morning, I think I'd enjoy it waaay more. It's a very beautiful bath though.
Walking up to the Fisherman's Bastion at 7am. There were already a few people there - influencers and other photographers - but it was very quiet and peaceful nevertheless. We had many spots for ourselves, and took some beautiful photos and portrait stuff. The Fisherman's Bastion is so beautiful, it reminds me of the Sacre Coeur, the panoramic view is breathtaking and it's another place I want to visit again!
A warm summer evening. Walking around Városliget - the City Park of Budapest. It was beautiful. The wind on my skin was so calming and felt so good, and the light was incredible, we did a portait shoot and it was lovely, Jule and I laughed a lot (mostly about ourselves). The park was so so beautiful too, there weren't really any other tourists there and it was just so relaxing. One of my favourites places in Budapest. Strolling around Hősök tere - Heroes Square - in the dark, back to our hotel right on the square.

That random woman blowing bubbles at her toddler.
It feels like autumn right now. It smells like autumn, like rain and wet grass and cold air, and I absolutely love it. I'm already over summer.
Feeling super tense. Cooling myself down with Folk Metal (Eluveitie! They are life saviours!) and Mongolian Morin Khuur music.
Oven veggies. Nothing else. Just tons of veggies and herbs. Makes me feel so good.
Woodland walks. Seeing dragonflies, baby frogs and black beetles. Touching soft moss and hugging trees. A baby frog walking on my hand. Listening to birds and owls. Wild growing raspberries, strawberries, red currants.
Spending time at the lake, drinking a yummy oat milk cappuccino, watching people (and many many dogs), laughing with M.
Finally watching Professor Marston & The Wonder Women. The movie wasn't perfect but it made my bisexual/polyamorous heart SO HAPPY. Also, it gave me the urge to rewatch all the lesbian movies I used to love when I was 15 (Loving Annabelle, Imagine Me and You and especially Bloomington) - looking back at it, all three movies weren't really good but I still remember how happy they made me when I was a teen. Also Drunk Lesbians Watch... is my new fav youtube series, they are killing me. I'm definitely going to do a Lesbian movie marathon soon, there are still tons of movies I haven't seen yet (Carol!! What!!) and for some reason I feel super queer right now. Maybe I just miss being with a woman.
Meeting F. at the lake, drinking coke and eating fries. Having a really good, deep conversation.
Eating vegan ice cream (dark chocolate and banana) at the Tollwood festival. Strolling around the Olympiapark at night. It was so peaceful, so lovely. Finally seeing my favourite singer - Loreena McKennitt - live. It was definitely the best concert I have ever been to, this woman is just incredible and so inspiring. She just makes me feel ALL THE THINGS. The Mystic's Dream gave me goosebumps and I NEVER get goosebumps.
Making vegan cheese cake for the very first time. Yummy.
Smoky cashew black bean burger patties. I'm dead, I love them so. I want to try the alnatura ones soon.
Seeing something like the ISS. It wasn't her, I checked the ISS timetable - she was in Australia when I saw that thing on the sky. I saw it three nights in a row - it wasn't an airplane (no blinking, no sounds, had a different shape and moved in a different way, fast but...like floating under water), and looked like a bright hovering star. *cough* Or an UFO. */cough*
Watching the stars. My gaze usually stays at Vega, Jupiter and Arcturus. These three luminaries seem to follow me everywhere, guiding me.
August —
Looking in the mirror. Actually finding myself beautiful.
I really need to win the lottery so I can buy myself this beautiful Florida house - it gives me Bayou vibes and the neighborhood reminds me of Beasts of the Southern Wild. These Southern houses always seem like they're haunted. Oh, and it reminds me of that one story I have in my head. Am I ever going to be able to write it down?
The photography of Marilyn Mugot reminds me of another story I want to write. Such an inspiration. Why am I so scared of writing fiction? Maybe I feel like I could never write down all the things I see in my head - sometimes those things can't be put into words. But I don't want to die someday with all those unwritten stories in my head.
Hungry Herbivore. ASMRs usually don't really trigger me but I just loooove her and she inspires me (to eat more vegan fast food....). I'm finding mukbang and all that crap still weird and disgusting though.
Finding out my two crushes have a same friend on Facebook. I mean...that sounds like a weird, small, unimportant thing but I met both guys in different environments and circumstances and they both lead really different lives, they have different jobs, different ages, different types of friends. And they live like 1000 km apart and don't know each other. It's so weird. Maybe the world isn't that big after all?
Taking the dog out for a walk at night. Seeing the world through different eyes. Looking into the windows of strangers houses. Smelling a weird scent in the middle of the road that came out of nowhere - like incense or smudge sticks. Did someone just do witchcraft or something occult in my neighborhood!?
A quiet, rainy day. Broccoli soup with coconut milk, macadamia and parsley. Fresh walnut and fig bread.
Seeing a black redstart - a phoenicurus ochruros in our garden, landing next to me in the grass, looking at me, doing cute noises, flying away again. There are so many birds in our garden at the moment (I think there are tons of bird nests in our bushes and hedges). Sometimes it's almost as if they're looking at me, watching me.
BBQ night with nice people: G., Mum, Dad, S., C. & M. Haven't felt that good and accepted in a really long time. Vegan skewers and potato salad (Mum's potato salad is the best!). So so many drinks. For some reason I didn't get drunk, not even tipsy. Evening walks. Lots of laughs and talks. C. after not seeing her for six years: "I remembered you where vegan so I got you some vegan sweets!" I love when people remember that. And those sweets were so fucking good.
Gang of Youths - Let Me Down Easy. Oh, I'm crushing so hard on David Le'aupepe.
Spending so much time at the lakeside. Always reminds me of my childhood. Especially drinking coke and eating fries at the beergarden, looking over at the lake. Those huge chestnut trees and fairy lights. Hearing the bell ringing when the food is ready. Sometimes hearing thunder in the distance and seeing lightning dancing on the water. Walking on the dock. Watching fish and ducks and seagulls. Dipping my toes into the cold water. Feeling the hard, rough stones under my feet. Sailing boats (man, I really want to sail). The honking of the steamboats.
Enjoying cold drinks in the garden. Current faves are: Blood orange wine and Hugo with fresh limes and mint leaves.
Spotting the Summer Triangle in the night sky. Deneb, Vega and Altair. And Vega keeps following me everywhere, like a puppy. She's well-known for doing that.
Pasta with veggies, lemongrass, mustard sauce and pine nuts.
Before I went vegan I had a very weird relationship with food (not really a bad one but not a good one either) and a lot of guilt when I ate something I thought wasn't good for my body - like sweets, carbs, fat. Now I just love to think about what I want to create, I love to cook and I LOVE to eat (even sweets, carbs and fat. Oh man, I love fat). The whole cycle of 1.) thinking about what I'm in the mood for, trying out new things and wanting to recreate yummy recipes from all over the world (usually found on Pinterest or Instagram.) 2.) actually cooking them, handling foods with care, love and gratefulness and 3.) eating the thing I made feels like some sort of self care, gratitude and maybe even art and I'm just really thankful for that.
Munich with Jordana. Strolling through the flea market at the Olympiasee. Drinking cocktails on the lake (@ the Capri Strandbar) and seeing Thesi there!, eating french fries, walking up the Olympiaberg, seeing pretty flowers and having a lovely view.
Treating myself with a nice foot bath (well, not an actual foot bath, I just used an old Wäschewanne, lol. Also, what the heck is the English word for Wäschewanne!?). Spending almost all day on the patio. Reading poetry and listening to The Shins. New Slang always gives me sad summer vibes, just like A Comet Appears, and I don't know why. Maybe it's some sort of nostalgia that hits me when I listen to these songs.
Harvesting tomatoes. Nothing better than a vegan cheese sandwich with fresh tomatoes on top of it.
September —
The start of autumn. Darker days. Quiet rain. Black coffee. Listening to Loreena McKennitt, bonfire Indie tunes and Pagan Folk. Pumpkins. Autumn is my favourite season, always.
Having a super quiet birthday (thank God, because I don't like birthdays). Spending the time with my parents at the lake. Going out for dinner.
Hiking at & around the Alpsee. So many impressions which can't be put into words. Nature is a healer.
Pasta with mango chili mustard sauce and arugula. And oven roasted veggies (pumpkin!!) in the evening.
Thinking about going to Scotland this October. Experiencing Samhain in Edinburgh is one of my dreams. Don't know if I'll find someone to travel with me though and travelling alone might be too stressful for me at the moment. We'll see.
Hot peppermint latte on a rainy Sunday morning.
Eating vegan curry @ a cute beergarden at the lake. Finding a cute little spot at the lake. Almost no people there but lots of ducks and seagulls. Tranquility. Silence. Pink and red flowers. That time between summer and autumn that makes me feel sad and happy at the same time. Thinking about B.
Crying over a guy for the first time in my life. (B., to be specific.) That sounds horrible but it isn't, actually. And I didn't really cry over him, I cried because I was such a bitch and because I was the one who made mistakes. It felt good though. For a long time I thought I wasn't able to feel but apparently I am. Sometimes I think my heart is unbreakable - even when love ended or someone I was in love with wasn't in love with me...it's as if nothing can break my heart and being able to cry because of that whole him/me-situation...felt so f*cking good. I don't know if that makes sense.
The word dissolve. It follows me wherever I go.
Reading old diary entries. I was so good back then. A part of me doesn't want to let go of depression. When I'm depressed I live in a world full of words and the way I write...it's beautiful. I could become a poet, I really could. Well, I am one. But I never published anything. Thoughts and words are so intimate.
Purple suburban sunsets.
Sesame garlic hummus and tomato falafel.
Strolling around my hometown, finding hidden corners and alleys I have never been to before, falling more and more in love with this place. I'm so grateful. Going to that cute little cafe, ordering black coffee and vegan brownies. The waitress asking me if I was vegan. She was so lovely. ♡
Making hummus for the first time in my life! I put so much garlic and tahini in it, it's freaking delicious.
October —
Dad bringing me vegan sweets and pizza (without me telling him to buy me anything). Best dad ever. ♡
Strolling around my hometown, pt. II. Walking alongside the old city wall. Enjoying autumn. The leaves turning orange.
Oktoberfest with J. Having the yummiest fries. Taking stupid selfies. Finally being able to wear my new dirndl for the first time. Seeing the sunset in J.s Schwabing apartment rooftop terrace. That beautiful blonde woman in the S-Bahn, a bag full of burnt sugar almonds in her hands. Also wearing a dirndl, and a flower crown. Me smiling at her and her smiling back. Made my heart flutter. I love those moments.
Midnight binge eating a few slices of bread with hummus, two green olives, a few slices of bread with almond butter and two gelee bananas. And not a single f*ck was given that night.
Green olives filled with garlic or almonds.
Those moments before the rain. When it's already starting to drizzle. Cold wind, corn fields, dark blue grey white clouds, caterpillars on the lane, birds in flight, crows, collecting chestnuts (the first one of the year is a lucky charm).
Standing at the corn field, right where the town ends. Always gives me an eerie, bleak feeling. I keep thinking about wolves or wild boars.
The sound my dog makes when he walks over fallen leaves. So much love. Gosh, I love him so.
apr 2 2019 ∞
dec 12 2019 +