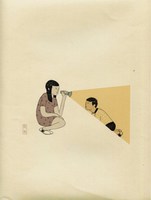 RELEASE - What did you let go of this year? // I let go of a lot of weight. Quite literally. I established some healthy routines for myself like certain food rules and trying to move every day. Which made me lose 35kg and made me feel great. I learned that doing a little bit every day has so much power. I also had to sell my car which was a big step for me. Now I'm relying on public transport, my own feet, my bicycle. And you know what? Right now I wouldn't want to go back. Sure, there are times when a car would come in very handy but I'm used to these obstacles by now. There is always a way. And not having a car forces me to lead a much more active life.
ACCOMPLISHMENTS - What were you deeply proud of doing, making, being, etc. this year? What made you feel good? // I just had a look at my 2017 and 2018 goals and noticed that I actually managed to meet most of them. It might have taken me longer than one year but that's absolutely fine. Slow progress is still better than no progress.
Bread is a very rare treat for me now. I only smoke a cigarette like once a month and never buy them for myself. I've stopped eating meat – in fact I'm currently eating 80/20 vegan which means I never use animal products at home but will have some when travelling or for special occasions. I'm much more active, I walk and cycle every day. I challenge myself to try new sports, to get out of the house. Moving and walking is not a burden anymore. I spent countless hours in the water this year. Swimming laps, diving.
And I read about 80 books in 2018. Thanks to my two hours on public transport every day. Reading is something I wouldn't want to miss anymore. It adds inspiration and a little bit of magic to my life. New ideas and concept I have to wrap my head around. I keep learning every day.
I was also quite creative in 2018. I bring a sketchbook along when I travel and I like working on some creative projects at work (carving wooden bowls and spoons, working with clay). I worked on some projects like wedding invitations for my friends, a coffee roasting company and the graphic concept for my school's anniversary.
You'll regularly see me at the theatre or at concerts now. Also, I met so many of my short-term goals! I learned quite a few new things, too. I got a diving license. Two of them actually. I learned how to ride a scooter (with lots of weight on the backseat). I learned to appreciate travelling alone, I know how to skip stones on the water, I learned how two whistle with my fingers.
BREAKTHROUGHS - What were your biggest breakthroughs? This can be in any area: emotional, spiritual, career, etc. // My biggest realization this year: I can do everything if I really want to. Determination is such a powerful tool. There is so much unused energy you have which helps you achieve everything you ever wanted. So. Where to start. This year was such a good one because I saw and felt a positive transformation. I can't really pinpoint what the cause was – did my habits influence my mood? Was a mood change the reason I was able to adjust my habits? But in the end it doesn't really matter.
I learned how to love myself. I love spending time alone. Seriously, I am such good company and I'm never bored on my own. Last year I wrote that I felt lonely and wanted to belong. Well, I belong to myself now. I don't need anyone but it's nice to have someone. Which brings ease and more freedom to relationships.
Daring greatly: Just do it. What's the worst possible outcome? People will laugh at you? You'll have a bad time? Come on. You've had worse. So, I just did whatever I wanted. I sang karaoke songs. On a stage in a crowded pub. I forced myself to make new experiences even though it's always uncomfortable at first. And I learned that travelling alone is the best thing anyone can do! It makes you flexible, free. You'll get to know so many people. I used to be afraid of going alone. But you know what? Being a teacher I can only travel during school holidays – a time when my friends rarely get time off. So I have a choice: Stay at home or go on your own. Best decision ever. I spent two months travelling through Indonesia, Australia and Mexico. I had a blast. Would recommend, will do again.
On a more spiritual level: I started going to yoga classes every week. I saw a Balinese healer and took part in a purification ceremony at an Indonesian water temple. I climbed a volcano in the early morning hours and I watched the sunset from sacred Mount Ngungun after exploring Aboriginal caves and learning about the old myths. I still don't have a strong faith or anything but I like including elements from different spiritual practices into my life. I feel like it adds a certain layer of magic and gives me the chance to get to know myself better. Especially yoga is so good for me. I'm mainly doing it for the stretching but the better you get at doing the Asanas the more you're open for the spiritual background. Just do it, don't think about it – the rest will come with time.
Moderation is a quality I never really had. I'm an all or nothing kind of person. A perfectionist. someone who would give up after making a single mistake. This year I learned to follow through the intentions I set for myself. I learned that an exception or an error is no reason to give up. It's actually the best reason to keep going. If you stay on track most of the time a mistake once in a while is no problem. Best example: Not letting your slip-ups get out of hand. Say you're trying not to eat sugar but you'll have a cookie one day. I used to say, well, now that I already fucked up I can just eat the whole box – now I realize that one or two cookies are okay AS LONG AS I DON'T eat every single crumb in that container.
An important learning: I don't want to have pets. And no children either. I took care of a friend's cat while she was in Colombia. And even though I enjoyed the cat's company sometimes having her around actually made me feel bad because she took away part of my freedom. I couldn't just stay out for hours and days. I couldn't go on holiday without a thought. I felt bad going out in the evening because it meant I had to leave the cat alone. As someone for whom being – and feeling – free is very important being responsible for an animal isn't really the right thing. At least not at the moment.
A mood lift and so much more energy, probably cause by moving more and eating a healthier diet. I had times when I woke up at 5am, highly alert and well-rested. I didn't have any major emotional ups and downs. It feels like a contradiction because obviously you lose a lot of energy doing sports but somehow I have more energy, I'm less hungry and in a better mood when I keep moving throughout the day. I'll count a healthy, mostly vegan diet as a breakthrough here as well because it means that I'm not constantly in pain. If I feel bad I usually know why. And I've started cooking, exploring new cuisines and using new ingredients. I loved making vegan sushi rolls, roasted cauliflower with polenta, eggplant and sweet potato with tempeh, Indian curries with okra. So good.
The last thing I want to add is routine, something very difficult for me but just as beneficial. I got to see how much I can achieve simply by sticking to something. Giving it a little effort on a regular basis. So much more effective than my 'I want it all and I want it now' approach.
HAPPINESS - What was the most fun you had this year? When were you really happy? // Some random happy moments I come up with when I think of this year:
Sailing in the Whitsundays. Whitehaven Beach. Nothing but white silica. Chasing lemon sharks and small stingray in the shallow water. Jumping into the sea right from the boat. Feeding sea eagles in flight. Finding five turtles while snorkeling in the keyhole lagoon.
Seeing whales for the first time. Australian winter is the mating season for humpback whales so I saw quite a few of them. Majestic.
Diving. The most magical moment was my first night dive in Tulamben when the shipwreck suddenly appeared in front of me surrounded by complete darkness. Diving really provided some of the most special moments this year. A large school of ray above the Yongala wreck. Lembongan coral, Mola Mola sightings. Taking a walk during low tide in Ayr. Boat rides to the diving sights. Seeing while. Pelicans casually flying by. Diving with grey nurse sharks. I even got a shark tooth from the bottom of the ocean.
The feeling after accomplishing something that wasn't easy for me. Like climbing a mountain. Running for half an hour. Singing karaoke, meeting someone new, going to that class. Worth it.
Outdoor swimming pools late in the evening. Just soaking in the warm water and breathing in the cold, clear air.
But this year it's hard to pinpoint my favourite moments because the year was made up of so many small things I appreciated which is why I need to refer to my monthly lists where I've already chronicled everything: January / February / March / April / May / June / July / August / September / October / November / December
LOVE - Who did you fall in love with this year? // I fell in love with myself. Uh-huh. Apart from that? Uhm. No one? I kinda liked Korbinian, Manu and Andre but in the end it wasn't quite right. I mean, who knows what is going to happen with Manu but that's a question for next year. In hindsight I must admit that I had a lot of (disappointing) dates this year! People seem more and more mediocre to me the older I get. Maybe I just keep getting more awesome which creates a big discrepancy? No. Okay. I know that my expectations are through the roof. But I will admit that I'd rather be alone than in less-than-amazing company. Ain't got time for that…
Nick (FFB) - He cooked for me and showed me pictures of beautiful sea snails / a video of his shark attack (he is a diving instructor)
Rasmus (EDI) - A Dane living in Edinburgh, having beer at Flex with me one Wednesday night. A feminist, too! The night before International Women's Day.
Korbinian (GRAZ) - A very tall dude from Gilching with a baby face who is a lot of fun to be around.
Fabi (M / Maisach) - Isarbier and Flex. Forgettable. Made me feel like a bitter feminist.
Arne (M / Trier) - Brought beer and cigarettes on the day the cat decided to jump from the balcony and vanish.
Sebastian (M) - The one who designed a fake Six Feet Under birthday invitation for me, had a very cute cat, knew a lot about fancy cocktails and... didn't want me.
Chris (MN) - A pretty, happy-go-lucky woodworker who drove me around in his Skoda and played board games with me at the lakeside
Stephan (CH) - We went for a Bintang in Canggu, he told me about his world travels and surfing experience
Manu (M) - We spent the evening before my 30th birthday together and he was the first one to congratulate me.
Markus (ED) - Nice blue eyes and circonflexe eyebrows, watching a Gerhard Polt movie with me.
Roy (M) - Ramen and pistachio ice-cream with an ex-marine.
Andre (AM) - Beer at Flex with one of the few people eye-contact is no problem for me.
Christoph (EBE) - Card Against Humanity at the kitchen table until he stole all my clothes.
Tom (A) - We met at the Cat Café and I was chosen by a fluffy red cat. Also, he inspired me read about Ayurveda.
Önder (M) - A blue-eyed Turkish dude whom I met at Neni. Oh, and we had a gigantic pizza at the train station Osteria, too.
Bene (M / Pfalz) - A pretty boring cutter with whom I walked through Hofgarten and had a drink at Goldene Bar (HdK). He leaned in for a kiss but I disappointed him. #ratethedate
LOSS - Who did you miss? // You know what? I didn't really miss anyone because I fell in love with myself. I probably missed Hannes a few times. Possibly Korbinian (and Frank and Doris and include any sad story of my past here ). But yeah. I learned not to waste time and energy on people who don't want me in their lives.
PEOPLE - Did you meet anyone new? // From the top of my head: a few new colleagues (no one interesting though) / Timo (and the German dudes), Johanna and Charlotte the Dutchie on the Habibi sailing boat / a few friendly AirBnB hosts like Erika and Brendon in Edinburgh and the Canadian weirdo in Hervey Bay / Manu!! And his friends Isi and Andi as well as his roommate Martin. / I spent more time with Bibi (Karaoke – there we also met Tom who works right next to my house) / we often went to the pub quiz so I also spent more time with Barbara, Maike and Alex / I met quite a few more people travelling, for example at the diving centres (David, Barbara, Pascal) / I met Rasmus's friends Annie and Alex in Scotland // I'll just stop here because in fact I only met one new person I'm truly fond of (Manu).
TRAVEL - Did you travel? Where did you go? // I started out with trusted Lexi by my side when we went to Bali together. We had a bit of a disagreement because I wanted to go diving (east coast) and she wanted to go surfing (west coast). We had a magnificent time though. / I went on two school trips to Barcelona and Jena which were both very nice, too. Afterwards we took our class to a survival camp not far away. Well, at least I had a good time lying around in a bathing suit, reading in front of my tent. / In the summer holidays I learned that travelling alone is the best!! I never really wanted to do that but of course nobody had enough time to come to Australia with me as usual. So I just went alone. Best decision ever. Afterwards I went back to Bali for my second diving license. / In autumn I went to Scotland for the first time – alone again. I had a great Halloween in Gothic Edinburgh, nerding out on Harry Potter scenery and touring the Highlands. / And now, as I'm writing this, I'm actually supposed to pack my bag for Mexico. Grand finale 2018.
I already know that I am going to be in Canada in April 2019. I'm taking part in an education program organized by the city of Munich. We are going to go to Montreal and Quebec Cité.
FASHION - What was your most beloved/favorite outfit? How would you describe your style this year? How did the way you dress change? // Because of spending so much time in chlorine water my hair was pretty damaged and dry. It got better at the end of the year so I got regular haircuts and got rid of my blonde ends. No experiments. After losing weight I could finally wear my jeans again so my style actually changed a lot. You'd much rather see me in jeans and T-shirt now, wearing trainers or Doc Marten's. A flannel shirt or hoodie on top of that. Wearing hoop earrings, head wraps, walking around with a backpack. Says the lady who wouldn't wear anything but dresses for years… Some (clothing) items I really liked: the shiny green velvet jacket and the toffee-coloured fox hat I got in Edinburgh / crystal-encrusted hoop earrings from &Otherstories / black jeans / Reebok Club C85 sneakers / Harry Potter fan wear / that huge mustard yellow scarf / Manu's Christmas present for me, the art teacher paint palette sweater / black satin sandals with block heels / a shiny dark green H&M dress / bright pink lipstick / that denim dress I ripped when I tried to climb over a pole in Barcelona / a side braid / a fake septum piercing / a bathing suit or wetsuit ///
MUSIC - What were some of your favorite records and songs? What song will always remind you of this year? What song lyrics reverberated with you? // I hardly listened to music this year. Again, that's what being car-less does to me. I used to listen to music on my daily commute but now that I sit around trains with earplugs every day, reading a book, I never really listen to a playlist anymore. At home I prefer silence anyway and moreover my record player doesn't work anymore because the needle is broken. I went to quite a lot of concerts this year. I think my top 3 must be
Wolf Alice / Muffathalle / Lena
Kat Frankie / Ampere / Lexi
Kurt Vile / Muffathalle / Lena
I also saw Alt-J, Uncle Acid and the Deadbeats, Mavi Phoenix, Joan as Police Woman, Superorganism, Nic Cester, Itchy, Alcest, First Aid Kit, Sookee and Leoniden/Von Wegen Lisbeth at Im Grünen Festival. I still went to GoSingChoir a few times but I discovered something even better: Karaoke! I finally found someone who doesn't give a shit about his public appearance either and willingly performs any weird song with me on stage. Strangely enough, the "song" most important to me this year was Show Me Love / Sri Argala Stotram by Krishna Das. It's more like a prayer than a song but it is absolutely beautiful and has the power to change my mood instantly. It makes me feel peaceful and turns every moment into a calm and special one. My yoga teacher likes to play it during Shavasana end relaxation (which is how I found out about it). I remember sitting on top of a volcano in Bali, earliest morning hours during sunrise, shivering, listening to this on my phone. Sublime moment. Some other songs or albums I can think of that I liked (singing) this year: Fuck Her Gently (Tenacious D) / Fairytale of New York (The Pogues) / Walking in Memphis (Marc Cohn) / Blinded by the Light (Manfred Mann's Earth Band) / Tai Chi Too (Oliver Shanti) – another yoga find / Visions of a Life (Wolf Alice) – especially Sadboy / Everybody Wants to Be Famous and _ Something For Your M.I.N.D. _ (Superorganism) / 3WW and Deadcrush (Alt-J) / Color Decay (Júníus Meyvant) / Fool for Love (Lord Huron) / - Color Decay / Lord Huron - Fool For Love / Home and Bad Behaviour (Kat Frankie) / Yaeji - Drink I'm Sippin On (Yaeji) / Essig auf Zucker (Mine) / the Lisztomania version they use in the intro of Mozart in the Jungle / the soundtracks of Call Me by Your Name and I, Tonya / Shallow (Lady Gaga and Bradley Cooper) / Hall and Oates, George Harrison.
CULTURE - What were the most interesting exhibitions you saw? Any creative workshops or theatre visits? // Workshops: I learned how to work with clay on the potter's wheel, attended a silversmithing workshop, make Manu's dad give us a lesson on woodcutting and learned the Balinese batik technique in Ubud. Additionally I worked with Anja Sczilinski on how to teach Hamlet to students! Speaking of learning new things… The library was one of my favourite places to be this year. I even visited the British Library in London. And before I forget: the TED conference at TU München was so inspiring. I really want to attend next year, too. // Theatre: The free outdoor performance of Hamlet (Entity Theatre) in Westpark was pretty nice. I loved _ Miranda Julys "Der erste fiese Typ"_ and Trommeln in der Nacht at Kammerspiele. And Pussy Riot Theatre at Muffatwerk certainly left an impression as well. Oh, and can I mention that beautiful dancer at Gärtnerplatztheater's Jesus Christ Superstar? // Exhibitions: I saw many exhibitions this year but I probably liked these three best: 1. The Frida Kahlo exhibition at the V&A, the one on Paul Klee in Pinakothek der Moderne and exploring the Imaginata in Jena with my students. I also spent a few hours in planetariums this year. The Zeiss-Planetarium in Jena was breathtaking. I loved that moment when they showed you the sunset and the stars became more and more visible.
MATERIALISM - Something you wished for and got (for yourself)? // I bought way too much stuff this year. I think I reward myself with things whenever I deprive myself of food. Which is fine and only natural (for someone with my materialistic, greedy Taurus personality) but I want to work on dealing with my bad feelings without succumbing to consumerism. Going for a walk, taking a nap, talking to someone, getting a massage – some items on my self-care list are probably very good coping mechanisms, too. Having said that, I felt the need for new clothes this year after the weight loss. I got a lot of T-shirts because I was finally able to fit into my jeans again. I got a foxy hat in Edinburgh for which I keep getting compliments. I bought way too many fake head wraps, hoop earrings, face creams and backpacks. But I finally got my own wetsuit, too! So much nicer than all those ill-fitting rental ones.
MOVIES - Your favourite films of the year. //
Three Billboards outside Ebbing, Missouri (2018)
Call Me by Your Name (2018)
Frida (2002)
I, Tonya (2018)
Gegen die Wand (2004)
Mermaids (1990)
WEIT. (2017)
The Witches of Eastwick (1987)
A Star Is Born (2018)

Here is the full list of all those Christmas and Harry Potter movies I watched this year while knitting a bag for my hot water bottle.
TV - Your favourite TV shows of the year. // I finally saw all the seasons of Mozart in the Jungle. Loved every minute of that. And I watched all three seasons of Lovesick in one sitting. Here are some new (to me) series I liked:
Dark
Master of None
The Handmaid's Tale
GLOW
Crashing
Maniac
The Bisexual
BOOKS - Your favourite books/stories/poems/plays. // I read so many books this year! In the end having to get rid of my car was a blessing in disguise. It made me sit around on underground trains for up to two hours a day. Public transport in combination with a good set of earplugs make you get a LOT of reading done. Here are some of my favourites:
For health

Dr. Nadja Hermann - Fettlogik überwinden (again, because it helped me kickstart my weight-loss habits this year)
Michael Greger - How Not to Die (which inspired me to go vegan)

For (lessons in) love

Michalis Pantelouris - Liebe zukünftige Lieblingsfrau (there are still some good men out there)
Mareike Fallwickl - Dunkelgrün fast schwarz (don't stay with people who can't truly love you and treat you like shit)
Sally Rooney - Normal People (don't stay with people who can't truly love you even though they treat you well)

For my interest in writers

Connie Palmen - Du sagst es (Sylvia Plath and Ted Hughes)
Paul Auster - Winterjournal (Siri Hustvedt and Paul Auster)
Julia Child, Alex Prud'homme - My Life in France (Julia and Paul Child)

For wanderlust and learning about strange places

Alastair Bonnett - Die seltsamsten Orte der Welt (this is one of the most interesting books I've ever read)
Bill Bryson - Frühstück mit Kängurus (which made me go to Australia)
Stephen W. Hawking - Kurze Antworten auf große Fragen (his writing puts everything into perspective… seriously, such a mindfuck)

For a dystopian mood

Juli Zeh - Leere Herzen (making people die for a good cause)
Karen Duve – Macht (the downside of female empowerment)
Adrian Tchaikovsky - Children of Time (sci-fi with a sentient spider civilization)

For artistic pleasure

Siri Hustvedt - Die gleißende Welt (the fake memoir about a female artist using straw men in New York's art scene – this is such an intelligent and overwhelming book)
Jennifer Egan - Manhattan Beach (women divers, old NYC glamour and tales about being shipwrecked)
Haruki Murakami - Mister Aufziehvogel (magic realism at its best – I can't walk past a well anymore without thinking of this book)
Benedict Wells - Die Wahrheit über das Lügen (that George Lucas/time travel idea was really good)
Charles Dickens - A Christmas Carol (an all-time-favourite I had never actually read before)