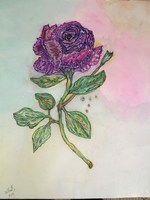 Academic & career:
Art Studio of own
Art workshops
Barista
Curator @ an art gallery
Further Art's studies
Graduate with Bachelor's degree.
Graduate with Master's degree
General experiences:
Attend a protest.
Donate blood.
Eat vegan for a month.
Get a place of our own & make it home.
Get a tattoo.
Go on a road-trip and photograph the moments.
See Gerard Way in concert.
See Radiohead in concert.
See Yo-Yo Ma in concert.
Meet idols:
Anna Torv
Cara Delevingne
Craig Ferguson
Emilia Clarke
Florence Welch
Gerard Way
Gillian Anderson
Gwendoline Christie
Hayao Miyazaki
Iwan Rheon
Jack White
Jared Padalecki
Jennifer Lawrence
Jensen Ackles
John Noble
Kevin Smith
Kimbra
Kit Harington
Maisie Williams
Matthew Bellamy
Megan Washington
Misha Collins
Natalie Dormer
Patrick Stump
Penn & Teller
Peter Dinklage
Regina Spektor
Savannah Brown
Sia Furler
Sophie Turner
jun 21 2016 ∞
jun 21 2016 +