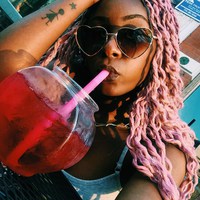 she/her.
twenty-five.
august leo.

leo moon, aquarius rising.

gryffindor.
womanist.
deeply introverted.
favorite colors are all pastel.
90s & 00s everything.
lazy vegetarian for 10 years.

vegan for 5 months and counting!
I eat what I eat without trying to label it.

I made it a little over a year, but my views around the labeling of veganism & heavily restrictive eating have shifted. my diet is still vegetarian & mainly vegan/nondairy, though.

8 tattoos, 4 piercings.
mother of a labrottie puppy named sunday.
poet & teaching artist.
employed by lush cosmetics & starbucks.
collector of notebooks.
lazy painter.
the youngest daughter.
the west side of chicago & redlands, california.
currently wandering new orleans.
perpetual sweet tooth.
chapstick & edibles are my only vices.
doesn't get out of bed until noon.
favorite word is buttermilk.
wanderlust.
collector of vhs & cassette tapes.
college dropout.
wanderer of the stationary aisle.
grandma earring thrifter.
has had the same hairstyle since 2011.
daughter of a writer & a drag racer.
auntie to 7 nieces and 4 nephews.
always has to pee.
oct 19 2016 ∞
oct 10 2019 +