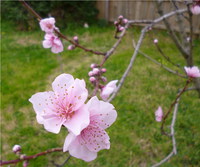 Late August ➸ Mid-November
wardrobe inspo
cutsews with cute motifs. Baby animals; deer; flowers.
layers with light cotton skirts.
Light puffed sleeves; gilets and short-sleeved cardigans.
socks instead of leggings on warmer days ; or pants with hems rolled up.
light colours, pastels, baby blue and yellow.
floral patterns; gingham; polka dots. Nautical.
accessories: light fabric or lace scarf; straw basket, woven or bucket bag, backpack; corsage with ribbons, lace or flowers.
single or double braids; topknot.
wardrobe ideas
do:

decorate bag with ribbons
pack Winter scarves & cardigans away

make:
purchase:

maryjanes or oxford shoes; sandals
a hat (large-brimmed; bucket hat; ?)
lifestyle & hobbies inspo
go on a picnic
grow potatoes
photograph and draw flowers
make a butterfly feeder
foods inspo
bake a carrot, zucchini or seed cake
rose petal jam, honey, drink, etc
to do
continue garden almanac
re-pot plants
make new cuttings
garden aesthetic
New growth on plants ; flowers blooming.
Baby fruits start to grow.
festivals
August
September
October

4 | World Animal Day

8-10 | Marimo Festival

31-2 | Dias de Muertos

November

31-2 | Dias de Muertos

4 | Greenery Day (SH)

TBA | Junior Eurovision
sep 11 2018 ∞
dec 7 2019 +