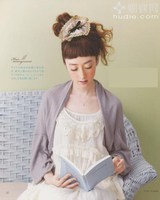 Loves loose fitting, one-piece dresses.
Layers dresses with skirts and sometimes pants.
Maybe dresses in A-line dresses and skirts. Clothes are always loose and comfortable.
Prefers somewhat quirky clothing over simple ones (but doesn't really like out and out flashy ones).
Similar to Natural-kei fashion but with a little quirk.
Doesn't like super sweet fashion.
Materials are preferably natural: cotton and wool.
Often wears turtlenecks in winter.
Likes clothes with puffed sleeves.
Loves to wear ethnic clothes.
Admires smock-like dresses that little girls would wear.
Has a cute apron to wear while cooking. +
Sometimes adds in some boy-style with shorts and jeans. Pants are usually rolled up: as if she is going wading. Legs are usually covered with socks or tights unless it's hot weather. +
Shorts and skirts are usually knee-length or more; skirts may be shorter in hot weather, but not mini-style. +
Ankle socks with sandals are a good option in summer. Other footwear includes oxfords, brogues or clogs.
Layers with tops/t-shirts which may have cute animal motifs like kittens, fawns, nature or spirit motifs. Tops could also be a loose tunic or blouse, with ruffles, pintucks, smocking or lace. She also loves embroidery.
Colours come from nature and the forest: deep earthy colors like burgundy, dark green, dark blue, mustard and brown. In the warmer months, light colours like tan, cream, ivory, and pastel colours like sky blue, baby yellow, lavender and mint green. Pink is OK but only a little - too much is too sweet. Might occasionally mix in brighter colours like sun yellow or grass green in summer.
Loves soft, cushy knits and over-sized cardigans.
Loves ponchos, boleros and vests.
Loves winter accessories like knitted/crocheted scarves, fur caps, capelets, ponchos, mittens and ear muffs. Puts on layers of warm knits in winter.
In summer, wears a straw hat to protect her skin. May be a boater or large and floppy, decorated with flowers, ribbons, pompoms or lace. +
Likes to use leather bags.
Uses pochettes at every chance. (An envelope-style bag with a flap over the top.)
Bags are unusual, not fashionable. May be any size or type, as long as they have a quirky element to them. +
Examples of bags: shaped like an animal. straw basket. wooden/bamboo box bag. faux fur tote bag. tote bag with printed animal/nature motif. floral or polka dot backpack. bucket bag with lace, etc. leather satchel. +
Prefers gold accessories to silver ones.
Aged bronze jewellery looks lovely with her styles. +
Finds old/vintage items charming and loves to go op-shopping.
Likes to wear a flower corsage with ribbons, lace, tassels or pompoms on her clothes or bag.
Loves pocket watches.
Loves necklaces with large motifs, like loupes (magnifying glass).
Loves cute animal motifs, including cats, dogs, deer, llamas, birds. +
Loves checks, polka-dots and patchwork.
Loves retro flower prints and lace.
Loves tights and leggings.
Wears flat soled shoes as default foot-wear.
Prefers shoes that are practical for walking or climbing in, as well as cute.
Loves round-toed shoes.
If wearing sneakers, they must be slip-ons that are loose fitting and cute.
Prefers cloth buttons to ordinary buttons.
Loves to wrap scarves and stoles all the way around the neck.
Has a light complexion (i.e. natural skin colour: does not use tanning products).
Her make-up is very natural, or none at all. Skin should be clear, soft and fair.
Likes to put pink blush on cheeks.
If she is going to use any perfumes at all, would be faint flower scents.
Various hairstyles: soft curls, long and wavy, a bob.
Usually has a fringe/bangs.
May put flowers in her hair, or wind ribbon or lace into her hair.
Hair might be up with a milk-maid style braid. A topknot is popular too, but usually messy. +
Is more comfortable with short nails, rather than long.
Loves looking at inspirational magazines, e.g. Spoon, Syrup, Mori Girl Lesson, Fudge, Mori Girl Papier.
Loves the vibe of Q-pot accessories. Spends time on hand-made sites like Etsy for whimsical inspiration.
Loves to spend time at cafes and coffee houses. Spends time writing in her journal or sketching in her sketchbook.
Loves books and reading, especially folk tales, magical realism and history. +
Loves fairy tales about witches, fairies, elves, gnomes and other forest creatures.
List of books that would appeal to Mori girls: *** +
Enjoys and appreciates every season for its own unique qualities.
Is not afraid to wear more practical clothes and get her hands dirty if it means enjoying nature and having a happy experience. +
Doesn't care too much if clothes get stained or ripped. Perhaps it's a good opportunity to think about altering or re-decoing clothes. +
Loves to take a walk with a camera in a hand.
Likes to record her outings and adventures, whether it be by taking photos, drawing, writing, blogging.
Loves moss, mushrooms and other forest plants.
Loves the smell of old books, earth after rain or a bonfire.
Pays attention to the tiny details when going for a walk. 'Stopping to smell the flowers' comes naturally to her. +
Can lose all sense of time in observing something simple like a pot of flowers or a stray cat. +
Loves daydreaming and will get lost for hours in something that interests her. +
When shopping, she loves small mysterious boutiques, wandering in and out with no real purpose. Can become distracted for hours this way.
A collector; has a habit of collecting things they love.
Likes the look of mismatched things at home, such as furniture or dishes.
Likes enamel dishes and glass jars for keeping dry foods in.
Feel happy when they find cute books at bookstores. Love old children's books.
Loves anything hand-made and to make her own fashion and things for the home. Especially loves knitting, crocheting and embroidery. +
Loves winter and autumn as far as the seasons go.
Loves to travel and experience new cultures. Wants to travel to northern Europe someday.
She loves cooking and baking. Likes to make simple, earthy foods like bread, pancakes, stew. +
Loves to drink tea and herbal drinks. Likes teapots and teacosies.
Appreciates art and loves soft, whimsical styles, e.g. medieval, rococo, arts and crafts, art nouveau. +
Music styles are indie, folk, instrumental, Celtic, ethnic and world music. Links to some examples.
A girl with soft and pure air about her.
Is shy and sweet, polite with good manners.
Has a quiet spirit, and can enjoy being alone at times.
She has a laid-back, peaceful aura at all times.
Hagu from "Honey and Clover" is a Mori Girl inspiration.
Yu Aoi (who plays Hagu in the live-action movie) is also a huge inspiration.
Quote Emma Goodman in BUST Blog:

Mori girls are all about seeking tiny miracles and returning to a simpler, more aesthetic way of life, even if they inhabit the bustling, upward mobility of New York City. Mori girls seek to remind us to just enjoy life. ... And yes, a lot of it is about the look, as Fashion always is. But so much of it is about feeling comfortable in your own skin, and in your own garments.

She is very individual. She doesn't stick to rules in fashion and will put her own slant on things.
Her overall life-view is positive and open. She looks for the joy and beauty in the tiniest things.
Sees Mori as a lifestyle just as much as a fashion. A return to nature. A harmony with the world around her. +
Most points from couerdartichaut's list for the Mori Girls LiveJournal community, translated from choco's list in the Mixi community. Some extras from WikiHow's 'How to be a Mori Girl' and Bookworm Blog's 'Mori Girl Summer Basics'. Any with a + I added myself from observing Mori tumblrs & forums.
Japanese Streets report including original 62 'rules' >>>>>
Hedge's Mori List an alternative and/or expanded version.