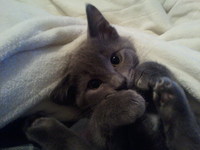 Finally going on a honeymoon to Aruba with my husband after being married for almost 3 years already.
Becoming closer to God.
My husband getting a raise at work.
Us finding the most wonderful cat in the world, Salem, that has helped me deal with the fact that I am never having children. He is our baby now.
Me realizing that things happen for a reason, like us not being able to buy that house and then being relieved because I was laid off shortly after.
My husband and I not fighting as much as we used to and growing much more closer and much more in love.
That despite me being laid off, I had enough foresight to put a decent amount of money into savings to fall back on and because of that, my family is going to have a great Christmas.
My husband buying me a bigger, more beautiful engagement ring that he is giving me for Christmas and when I asked him why he told me because it is what I deserve.
My brother beating the odds and fighting the spinal meningitis until he beat it.
My little family all being happy, healthy, and alive.
Getting offered a new job at the end of the year.
dec 11 2013 ∞
jan 30 2014 +