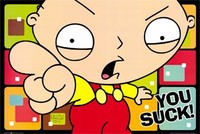 When it rains after u get your hair done.
Chipping a nail or smudging your nail polish after getting a manicure.
Stubbing your toe.
When your taxi cab turns down a block that has a garbage truck blocking the street and u can't get around it so you're sitting there with the meter running.
MTA fare increases.
Waiting in ANY line, more specifically at the DMV.
Running into "The Ex", when you're looking like a bum.
Alcoholics.
Broken hearts
Just being "FRIENDS"/ Being stuck in the friend zone.
Rejection.
PMS.
A pimple on the morning of a date.
A hot guy with messed up teeth.
Being broke.
The Boston Red SUX.
Forgetting a dream 2 minutes after u wake up.
Cheaters.
Guys who front!!!
Accidentally setting your alarm for p.m. instead of a.m.
Bad short term memory.
Hypoglycemic episodes.
Hyperglycemic episodes.
Diabetes.
Little dogs with big dog attitudes.
Guests who have over stayed their welcome and refuse to leave.
When parents out live their kids.
Sexual dry spells.
Finding a hair in your takeout food.
Feeling sand in your 'crack when u go to the beach.
Finding sand in your house still, 6 months after going to the beach.
People who take FOREVER to respond back to a text, email, or call.
The pins and needles feeling u get when your foot falls asleep.
Stretch marks.
When your feet get too hot.
Monday mornings.
Waking up with a back ache or stiff neck.
dec 30 2008 ∞
nov 2 2009 +