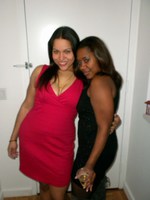 Having a younger, fresher complexion.
Being thinner.
Spending lots of time out with my friends at parties and clubs.
Wearing dresses, high heel shoes, and makeup.
Being in tons of pics with people.
Living in NYC.
Coming home at all hours of the night or next morning.
Making my own decisions without having to consider anyone else.
Not having as much bills.
My mom cooking dinner for me every day.
Loving going to the gym.
Losing 80lbs and feeling amazing.
Embracing my bad girl side for that short period of time.
Being more attractive and feeling like I was.
Having my dogs.
Seeing my best friends all the time, now I barely hear from them.
Meeting new people and re-meeting people from my past.
Shopping for sexy clothes and having it look nice on me.
Always having my hair long and straight.
oct 21 2013 ∞
oct 21 2013 +