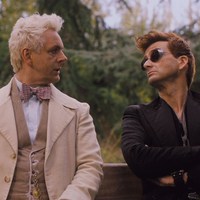 ‍ ‍ ‍ ‍ ‍‍ ‍ ‍ ‍ ‍ 𝙨𝙥𝙤𝙞𝙡𝙚𝙧𝙨 𝙗𝙚𝙡𝙤𝙬 !
‍ ‍ ‍ ‍ ‍‍ ‍ ‍ ‍ ‍ ✩ .. rating | ♡ .. faves
‍ ‍ ‍ ‍ ‍
—— season 1 ‍ ‍ ‍ ‍ ‍ (season avg: 3.3✩)
01 in the beginning ✩✩✩✩

the garden of eden. the baby swap with the nuns. nannying the wrong boy. the hell hound is named.

02 the book ✩✩

witches and witchfinders. anathema and pulsifer. crowley and azi hit anathema on her bike. azi finds out the phone number of the beast - 666

03 hard times ✩✩✩✩ ♡

their friendship through history. anathema befriends adam. argument - "we could go off together"

04 saturday morning funtime ✩✩✩

anathema and pulsifier meet. crowley and aziraphale are still fighting.

05 the doomsday option ✩✩✩

crowley is sad about aziraphale 'dying'. anathema and pulsifer decide to the airbase. aziraphale possesses madame tracy's body. crowley in the burning car. the kids, four horsemen, and crowley and aziraphale all convene at the air base.

06 the very last day of the rest of their lives ✩✩✩✩ ♡

the kids defeat the horsement, pulsifer destroys the missile pc, adam destroys satan. aziraphale get into trouble and switch troubles for the punishments. angels dining at the ritz.
‍ ‍ ‍ ‍ ‍
—— season 2 ‍ ‍ ‍ ‍ ‍ (season avg: ?✩)
‍ ‍ ‍ ‍ ‍